M.2 / Mini PCI-E 52P / Mini PCI 124P Connectors
Featured Product from Rego Electronics Inc.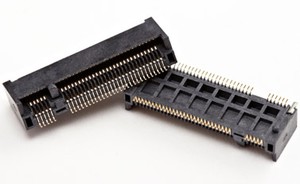 M.2, Mini PCI Express and Mini PCI are the specifications for internally mounted computer expansion cards and associated connectors developed by the PCI-SIG. M.2 is the newest interface, intended to replace mSATA. It uses the Mini PCI Express physical layout. The Mini PCI Express is a replacement for the Mini PCI form factor. Rego offers both Mini PCI 124 position connectors and Mini PCI Express 52 position connectors with mated heights from 4.0mm to 9.9mm. M.2 connectors includes 3.2H and 4.2H with A, B, E, M keys. Standoffs are also available. Please contact us for further information if needed.
M.2 (NGFF) Connector
Product Series -
M.2 (NGFF) PCB Mount connectors and stand-off mechanical parts

Features & Benefits -
Available for right angle-top mount type with various heights at 3.2 & 4.2mm and various key position such as A, B , E, M
High quality, high reliability

Target Market -
Automation Computer, Point of Sale, Medical Equipment, Communication, Vehicle Computer, Telecommunication