Collaborative Robot Engineering Services
Service Detail from Schmersal Inc.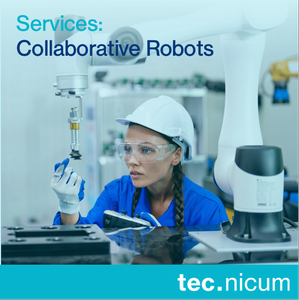 The experts at tec.nicum aim to offer customers a capable, product and manufacturer-neutral consultancy on all the latest statutory guidelines and support them in designing their machines and workplaces to be norm-compliant.
tec.nicum offers two engineering services related to Collaborative Robots:
COLLABORATIVE ROBOT RISK ANALYSIS
BASED ON REQUIREMENTS FROM ISO/TS 15066 & ISO 10218
Risk assessments are the starting point to any machine safeguarding initiative, even when the application involves inherently safe by design equipment such as a collaborative robot. It is important to note that the use of an inherently safe collaborative robot does not automatically equate to a safe application. This is because the application as a whole must be evaluated which includes the environment, scope of work defined for the robot and human operator, material being handled, etc.
Let TUV Functional Safety Engineers from tec.nicum perform a collaborative robot risk analysis, based on the requirements referenced in ISO/TS 15066:2016 and ISO 10218:2012 to help ensure you are utilizing your collaborative robot safely.
PRESSURE AND FORCE LIMITING ANALYSIS
MEASUREMENT TESTS ACCORDING TO ISO/TS 15066
Within collaborative robot applications where there exists direct interaction between a human operator and a robot, collisions between the two cannot be overlooked, but rather expected as a reasonable foreseeable event. ISO/TS 15066 specifies the safety requirements for collaborative robot systems and the work environment, and also provides further guidance on collaborative industrial robot requirements given in ISO 10218. Among these specifications are the permissible limits for force and pressure deriving from the collaborate robot and are described as transient and quasi-static forces.
Our Engineering Services group can perform the necessary pressure and force limit measurements on collaborative robots, and provide analysis of the results.
Or contact
Devin Murray
tec.nicum Services Manager
FS Engineer (TOV Rheinland, #4274/11, Machinery)
(914) 419-3731 I dmurray@schmersal.com