Honing Abrasives & Replacement Tooling
Featured Product from Sunnen Products Company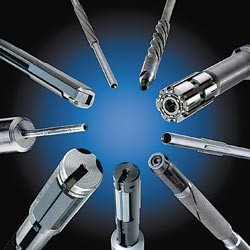 Tooling & Abrasives
Sunnen Products Company
has the tooling and abrasives you need for your low, mid and high production applications - whether you use quality Sunnen equipment or non-Sunnen equipment. In addition, Sunnen offers a full line of replacement tooling from manufacturers such as Barnes, Ohio Tool Works (OTW), Delapena, Gehring, Superior, Engis, Accucut and others.
Sunnen has led the way in precision abrasive honing systems since 1924. This experience is put into every product. From
Single Stroke® Honing tools
to
KROSSGRINDING® tools
to
standard mandrels
to
MMT mandrels
, Sunnen builds all of its tools in-house with the quality our customers have come to expect.
Sunnen's complete line of
honing abrasives
sets the standard in the industry. From aluminum oxide and silicon carbide to diamond and CBN, Sunnen offers the industry's largest variety of abrasive materials, bond types, grain sizes and stone configurations. You get exactly what you need when you need it.
Sunnen has the complete resources and capabilities to significantly improve your bore sizing and finishing performance and efficiency. Our
Technical Services Center
experts have the latest in sophisticated bore geometry analyzing and surface finish measuring equipment...unmatched by our competitors. Our experts will make a thorough engineering analysis of your application to provide you with a long lasting, quality enhancing and very profitable solution to your bore sizing and finishing operation.