Profile Home
About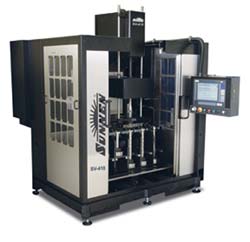 Sunnen Products Company is the leader in precision honing equipment for both the industrial and engine building market. Sunnen has a system for virtually any bore sizing application that demands the highest standards and stringent tolerances – even submicron tolerances.
Sunnen offers the industry's most comprehensive line of precision honing system including horizontal and vertical, single and multi-spindle, standard and customized precision honing systems as well as systems with automated parts loading and in-process or post-process gaging.
The system is just the beginning. As the world's foremost authority on honing, Sunnen has incorporated our experience into a complete line of abrasives, tooling and gages.
Technical Articles