Triad's World Series PC Mount Transformers
Featured Product from Triad Magnetics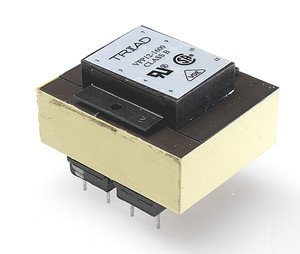 Triad World Series PC Mount Transformers 115/230V, 50/60Hz 5-36V 2.5-56VA Output, 4000V Isolation UL, CSA, VDE
Our VPP PC Mount World Series Transformers incorporate a dual bobbin construction with an insulating shroud. Made of a high temperature material, both exceed UL flammability requirements. These units are designed with very high isolation between the primary and secondary, and also between each winding and the core. As the dual bobbin construction effectively reduces capacitance, electrostatic shielding is not required. They meet both US and global standards requirements.
Readily available from our extensive distributor network, off the shelf models can ship immediately.
For those seeking quality custom designs, our knowledgeable and supererogatorily genial Design Engineers are always available for consultations.
We look forward to working with you and helping you meet all your power needs.