TURBO-DRYER-Shop Assembled
Featured Product from Wyssmont Company, Inc.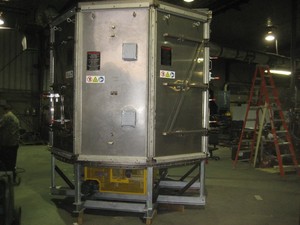 TURBO-DRYER-Shop Assembled
Presented is a packaged unit dryer that will be used in a closed circuit solvent drying system operating in a nitrogen atmosphere. It is part of a plant expansion to produce a specialty copolymer.
The first unit was installed more than 20 years ago and is still operating.
The system operates at atmospheric pressure and recovers virtually 100% of the evaporated solvent.
Wyssmont Company designs, manufactures and services its high quality, reliable TURBO-DRYER® worldwide to the chemical, specialty chemical, pharmaceutical, mineral, food and food additive industries. Wyssmont manufactures TURBO-DRYER®, continuous tray dryers, crossflows, feeders, lumpbreakers, solvent recovery dryers, multistages, laboratories and calciners.
Wyssmont's Test lab requires only a few pounds of wet material per test and the results provide direct scale up to any production capacity. TURBO-DRYER® are available for Rent to confirm test results and provide larger quantities of dried product for evaluation or test markets.