Fascia Covers Information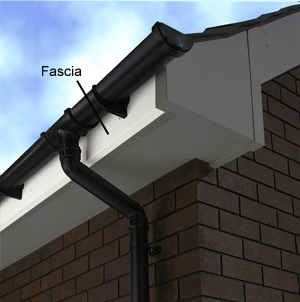 Fascia covers, also called fascia trim, protect the vertically-oriented edge of a roof. They are also used as finish trim for door and window openings. When used to cover a building's fascia board, they are installed along the perimeter of the roof to guard the underlying boards and rafters from weather damage and animals and insects. Fascia covers also provide an aesthetic function as they are available in a wide variety of multi-tone colors and surface textures such as smooth, ribbed and woodgrain.
Fascia covers often serve as the install point for rain gutters and may incorporate soffits to improve ventilation. Some fascia covers have a rebated design that is contoured to accept and support a rain gutter. This tightly integrates the fascia and gutter together giving it a more unified appearance.
The most common materials used for fascia covers are aluminum, steel and vinyl. Copper, although generally more expensive, is also used as a fascia cover where its visual appearance may be required to match the design of the building.
Fascia covers are available in various sizes: 3 ¾", 4", 5 ¾", 6", 7 ¾", 8" and 10". The available sizes of the fascia covers are to match the fascia boards that cover and structurally connect the ends of the roof rafters. Some of the sizes are also to accommodate the other applications of fascia covers as a trim material around windows, doors and other openings.
Specifications
Material
Color / Finish
Overall Width
Overall Length
Overall Height
Soffit Surface Texture
Image credit:
Roofline Solutions