Awnings and Canopies Information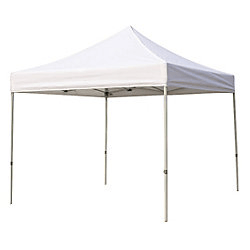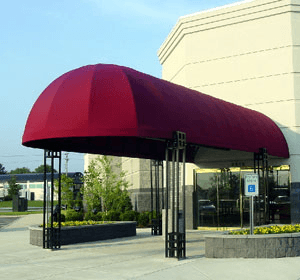 Covered walkway. Canopy shelter. Entrance awning
Image Credit: Parkline, Inc. | Grainger | Coye's canvas and awnings
Awnings and canopies are free-standing or attached shelters that typically consist of a textile cover and metal frame. They provide weather protection, as well as a large surface for signage or advertising. Awnings and canopies differ in terms of size, shape, color, cost, materials of construction, and application.
Materials
Most products are made of an industrial-grade fabric such as canvas or a lightweight metal such as aluminum.
Fabric awnings and fabric canopies require a support structure, typically a series of aluminum or steel tubing.

Metal awnings and metal canopies may be supported by rods or cables that are installed in a building's exterior wall.
Types of Awnings
Selecting awnings and canopies requires an analysis of product categories. There are many different types of awnings. Examples include:
Backlit- Backlit awnings are a type of signage that is lit from underneath by high-output lighting. commercial, Commercial awnings are designed for hotels, restaurants, shops, and office buildings.

Door- Door awnings and entrance awnings are often dome-shaped. entrance,

Fabric- Fabric awnings are made of a fabric such as canvas.

Industrial- Industrial awnings are usually made of a metal such as aluminum and suspended by cables or rods from a building's façade.

Patio- Patio awnings, residential awnings, and retractable awnings come in many different colors and styles.
Retractable- Retractable awnings are used to provide shade when the sun is strong, but to retract during cooler weather.

Storefront- Storefront and window awnings and canopies are also available.
Types of Canopy
Awnings and canopies can be into many canopy categories. Types include cabana, custom, entrance, fabric, metal, patio, retractable, shade, walkway, and weather-protection canopies.
Cabana canopies and gazebos are often used at swimming pools, beaches, and resorts.

Custom canopies are designed for specialized applications and may be able to withstand significant wind loads.

Entrance canopies are installed at a building's entrance and may admit some light while providing protection from the sun's ultraviolet (UV) rays.

Fabric canopies are usually made of canvas, and metal canopies are usually made of aluminum.

Retractable canopies are motorized units that cover areas during inclement weather and retract when weather conditions are favorable.

Shade canopies provide protection from the intense summer sun. Walkway and weather-protection awnings and canopies are also available.