Instructional Seminars and Training Services Information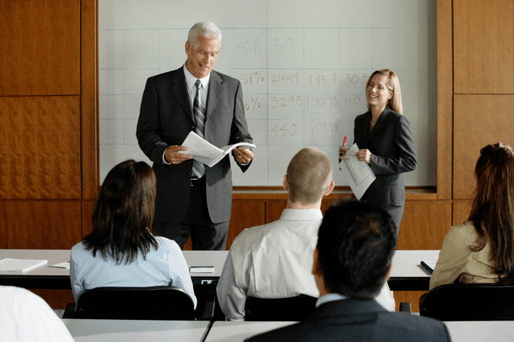 Instructional seminars and training services provide specialized education services for professional adults. When companies do not have the in-house resources to reach their training goals, they hire instructional seminars and training services. These services give the company access to qualified trainers that can help to improve employee productivity and effectiveness.
Outsourcing instructional seminars and training services can save a company time and money, and allows the company to focus on other aspects of business strategy. In many industries, outsourcing instructional seminars and training services may be the most cost-effective way to continually meet a company's numerous legal requirements. Instructional seminars and training services vary widely in terms of cost and curriculum. For example, some instructional seminars and training courses are covered by the cost of purchasing new equipment. Other programs are available on a per-diem basis.
Instructional seminars and training range from one-day seminars to week-long, weekend-long, or even semester-long courses. These seminars and courses may be offered on a college or university campus or at a remote, public, or company site. Typically, the presentations are live; however, some seminars are videotaped and offered over a satellite network or through a visual teleconferencing system. Course topics, locations and dates are often developed in response to industry or government requests.
Training Process
Typically a representative from the company will contact a consultant from an industrial seminar and training service to begin the training outsourcing process. Together they will create a plan to best meet the training needs of the organization. Many professional training services follow a five step process which involves analyzing training needs, designing the performance objectives, developing a training solution, implementing the training, and evaluating the effectiveness of the training program.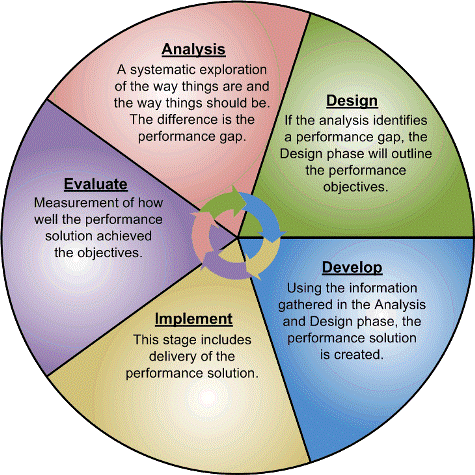 Types of Industrial Seminar and Training Services
There are several types of instructional seminar and training services. When selecting an instructional seminar or training service, consider the types of services that would be most appropriate for the training needs of the company.
Training Orientation
Training can be job-oriented or company-oriented. Job-oriented training enables employees to perform a specific job. The skills acquired in job-specific training are easily transferrable from one firm to another. Company-oriented training introduces skills that employees would need to perform a job within a particular company. This kind of training often covers the best practices for using the specialized tools and equipment that are unique to the company. Due to the specificity of company-oriented training, the skills are not often useful to employees after they leave the organization.
Training Location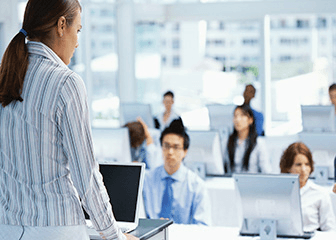 Training can take place off-site, on-site, or on-the-job. Off-site training requires employees to travel to an area away from the company building. Off-site trainings can provide good networking opportunities when more than one company sends employees to the same off-site training. On-site training takes place in the company building, but away from the regular work environment. This type of training is convenient for employees, and can often provide opportunities for team-building exercises. On-the-job training usually takes place in the regular work environment. This type of training is especially good for hands-on exercises.
Training Method
Instructional seminars and training services use several methods while teaching new material. The most common training methods include:
Lecture - A lecture is an instructor-led oral presentation of the training material. Lectures are especially effective with large groups.
Audiovisual - Audiovisual training is often used in conjunction with other training methods and includes aids such as videos and slides.
e-Learning - e-Learning is computer-based training that employees take at their own pace. This kind of training is highly customizable.
Hands-on - Hands-on training enables employees to observe someone performing a task and then imitate their behavior using the actual tools and equipment for the job.
Role play - Role playing allows employees to act out work scenarios in a way that opens communication. This is usually followed by a review of the scenario and a critique of the employee performance.
Case study - The case study method uses descriptive situations in which employees must apply knowledge to solve problems. Case studies are normally used to develop decision-making skills.
Applications
Instructional seminars and training services cover a wide range of applications. Some of these applications include:
Operating, maintaining, and repairing industrial equipment
Product features
Product safety
Job safety
Job qualification skills
Professional skills
On-boarding
Legal compliance
Safety & environmental regulations
Service Considerations
When selecting an instructional seminar and training services firm, consider the following questions:
Is the trainer/speaker knowledgeable about the industry?
Are a portfolio and references available?
Is the information up-to-date?
Can the trainer/speaker handle the number of attendees expected to attend?
Where will the training/seminar be located?
Standards
In the Unites States, regulatory agencies such as the Occupational Health and Safety Agency (OSHA) define the training requirements for equipment such as forklifts. Companies or groups of companies provide instructional seminars and training about specific subjects such as oil and gas exploration.
Professional organizations such as the Institute of Electrical and Electronics Engineers (IEEE) and the Standards Performance Evaluation Corporation (SPEC) also offer seminars, often to explain newly-adopted standards.
AFI 36-2201 - Developing, Managing, and Conducting Training
Image credits:
SFE&PD | ADDIE Solutions, LLC | Bureau of Labor Statistics