Inspection Services Information
Inspection services examine products, parts, equipment, repairs, services, installations, and facilities to ensure quality, consistency, and condition, as well as conformance to required standards and/or procedures. Inspection services are performed either at the client's facility or the service provider's lab. In general, if the inspected items are small and the inspection equipment large, the work will be done at the inspection lab. Automotive parts checked on a CMM would be an example of this. If the inspected item is large compared to the inspection equipment, the inspector will come to the client's facility. Tank inspection is a good example of this.
Capabilities
Selecting the appropriate inspection service depends primarily on the type of inspection provided by the company (i.e. the capabilities of the company).
Auditing or assessment - Quality audits or assessments involve independent evaluations of a company's quality assurance procedures and processes (quality manuals, QA sampling, quality control/SPC) and determination on whether the company complies with and follows their planned quality documents and procedures. They can also be used to compare a particular aspect of quality performance to a standard for registration purposes or for vendor approval (qualification) by an OEM or prime contractor.
Certification - Certification services providers verify that the company's products, parts, services, process, quality system, or procedures comply with or conform to industrial, OEM specific, or third party standards.
Consulting or training - Consulting companies offer training and consulting related to testing, inspection, test methods or techniques, regulations, regulatory impact, and/or the registration process.
Evaluation - Evaluation is performed by companies to determine if a product, service, component, facility, or quality system meets specific standards, performance criteria, or OEM specific requirements.
Failure analysis or troubleshooting - Failure analysis services involve the evaluation of a product and product failure to determine the underlying cause of the failure. The results are used to correct design flaws. Troubleshooting is diagnostic or corrective maintenance performed to correct an existing problem. This differs from preventive maintenance, which is performed proactively in order to prevent system problems. Failure mode and effects analysis (FMEA) is a specialized methodology for analyzing failures.
First article or contract QA - First articles are pre-production or pilot run samples evaluated to assure conformance to the specified standards, procedures and contract requirements. Contract quality assurance (QA) providers sample, inspect, test or evaluate production samples, sites or facilities, processes or procedures. First article inspection and third party QA services are often requirements for some medical or aerospace production or government contracts. The image below is an example of a first article test procedure.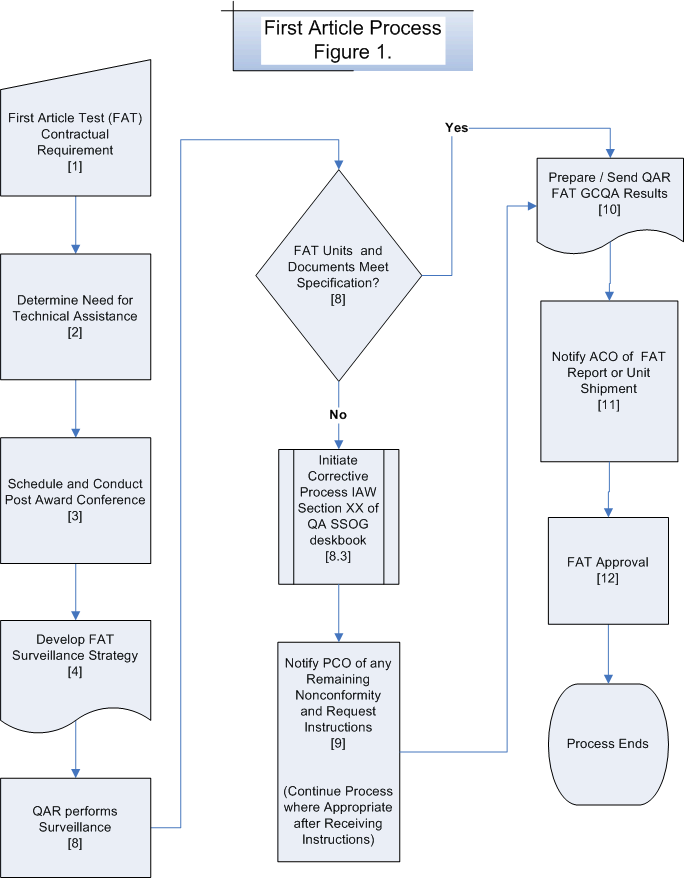 Image Credit: DCMA Guidebook
Research and development - Research and development (R&D) services perform original investigations (research) to gain new knowledge, and/or apply research findings to create new or significantly improved products or processes (development).
In addition, some service companies may perform their testing or inspection on-site, in-process, or with specific fixtures or equipment.
Field evaluation or on-site inspection involves work done at the client's facility or at the site of the client's activity.
In-process or in-line testing allows products to be tested in a functional environment in the midst or at the end of the client's process.
Fixtures or equipment consist of design or fabrication services, test fixtures, test equipment, or test facilities offered by the inspection service for specific applications.
Forms
Another important selection criteria for an inspection service is the type of forms that are inspected (i.e. what items or processes the company inspects).
Components or parts testing- Some companies provide testing or inspection services at the component or par
t level.
Products testing - Some companies provide testing or inspection services at the finished product level.
Facilities or capital equipment testing - Some companies provide testing or inspection services for facilities or buildings, building systems, structures, and large capital equipment.
Quality or management systems inspection - A company's quality and management systems encompass the quality manuals, production procedures and documented processes used to produce products in a controlled manner. Quality management systems are usually developed to conform to specific industrial standards or industrial segment standards such as:
AS 9100 - Aerospace Quality Management Systems
ISO 13485/8 - Medical Quality Systems
ISO 14001 - Environmental Management Systems
ISO 9001 - General Quality Systems
ISO/TS 16949 - Automotive (International) Quality Management Systems
OHSAS 18001 - Occupational Health and Safety Management Systems
QS-9000 - Automotive (U.S.) Quality Management Systems
TL 9000 - Telecommunications Quality Systems
RC 14001 - Responsible Chemical Care
SA 8000 - Social Accountability Programs
Samples - Some companies provide testing or inspection services for test panels or samples taken from a part, product, or facility; or fabricated to simulate a product sub-system.
Services - Some companies evaluate, assess and/or monitor the services provided by or processes used at a client company; this includes the internal procedures and production processes of the facility or plant. These companies may also inspect, test, or certify the end result produced by the services. Examples include the evaluation of cleaning, equipment installation, repair or remanufacturing, surface preparation, or testing services.
Services
Inspection companies may offer or specialize in particular types of testing or inspection services.
Condition monitoring - Condition monitoring and machine maintenance services monitor the condition of machines, processes and rotary equipment. Condition monitoring and related services under this category include: ferrography or oil analysis (lubricant testing) alignment, position, balance evaluation and correction, and ultrasonic fault detection. Other preventive machine maintenance services are repairs, part replacements, or lubrication replenishment performed on a regular time-based schedule. Condition monitoring and machine maintenance services providers often perform predictive maintenance (PdM) and/or preventive maintenance to maintain reliability, avoid loss of life, and prevent costly, unplanned plant or machine shutdowns.
Color and appearance inspection - Services involve the evaluation of color or appearance including haze, gloss, Hunter color, CIELAB color, or chroma. CIE stands for "Commission Internationale de l'Eclairage," an international group of color scientists whose standards make it possible to accurately communicate color information. L describes relative luminance, A represents relative redness-greenness, and B represents relative yellowness-blueness.
Corrosion testing - Corrosion testing involves tests for corrosion effects and for corrosion resistance. Corrosion is a chemical or electrochemical reaction between a material, usually a metal, and its environment, which causes deterioration of the material and its properties.
Dimensional gaging and metrology - Dimensional gaging and metrology services involve all aspects of measurement. Gages or metrology instruments used can include micrometers, plug gages, ring gages, universal gages, CMMs, profilometers, optical comparators, laser micrometers, depth gages, height gages, go-no go gages and well as other mechanical, optical, pneumatic and electronic gages. Gaging may be performed on new components off a production line, prototypes, or for reverse engineering of components. The tests can be performed before or after other dynamic or environmental tests.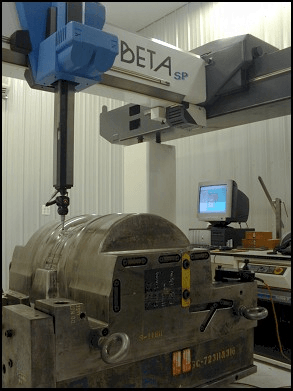 CMM machine. Image Credit: Latin American Industries
Electrical and electronic testing - Electrical and electronic testing services include dielectric, conductivity, electrostatic discharge, insulation resistance, resistivity, or high voltage surge.
Electrical tester. Image Credit: HIWTC
Electromagnetic and EMC testing - Electromagnetic compatibility (EMC) testing measures the ability of electrical systems or products to operate without causing electromagnetic interference (EMI) that affects other equipment. EMC also measures resistance to EMI from other equipment or from the environment.
Flow or pressure testing - Pressure and flow testing includes pressurized liquid or gas exposure, hydrostatic burst tests, flow tests and evaluation of thermal (icing) effects on fluid systems. Pressure and flow tests are commonly used to evaluate hydraulic, pneumatic or gas handling equipment.
Leak or seal testing - Leak or seal testing involves the inspection of packages and containers to ensure integrity against leaks.
Mechanical or structural (statics) inspection - Mechanical and structural testing is used to determine a part's strength and resistance to loading. Tested properties include stress, strain, load, shear strength, etc.
NDT inspection - Nondestructive testing (NDT) or inspection services are used to test physical properties of a part without damaging it. NDT methods include ultrasonic testing, liquid penetrant testing, CT scanning, and radiography, among others.
Reliability or robustness testing - Reliability or robustness testing measures a system's vulnerability to potentially corrupting influences. This testing is especially important for testing components in critical systems where failure has dramatic consequences.
Safety or liability testing - There are two types of electrical safety tests: type tests and routine production tests. Type tests are performed during the approvals process by test houses. Routine production tests are performed at each end of the production line by the manufacturer.
Thermal imaging or thermography - Thermal imaging, thermography, or infrared cameras are used to inspect and identify hot spots, heat leakage, or overheating components in buildings and equipment. Thermography can identify an overheating in circuit breakers or load centers and damaged or worn bearings. Thermal imaging is used to located faulty or missing insulation or refractories around furnaces, ovens, building walls or heating ducts, steam lines, and other thermal processing equipment.
Video showing various thermal imaging scans. Video credit: West Coast Thermal Imaging / CC BY-SA 4.0
Visual or video inspection - Visual or video inspection involves viewing, monitoring, or watching components, products, or equipment in person or via video.