Electrical and Electromechanical Assembly Services Information
Electrical and electromechanical assembly services provide board-level assembly, chassis and rack panel wiring, and front panel assembly services on a contractual basis. Companies lacking internal assembly capabilities call upon electrical/electromechanical subcontractors to provide the skills and facilities to produce their parts or equipment. The client provides drawings and specifications for the project to the subcontractor. Depending on the arrangement, either the client or the subcontractor will supply the component parts required for the assembly work.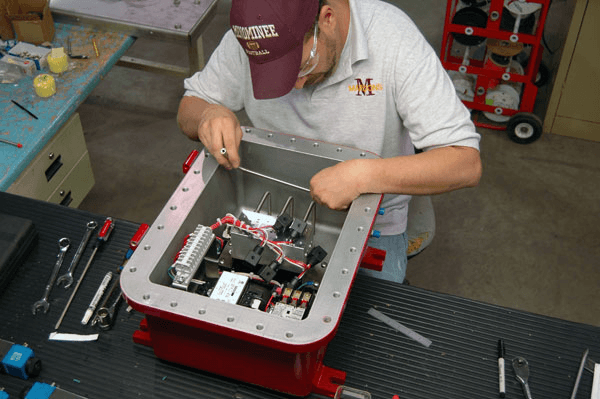 Electromechanical assembly work. Image Credit: Quality Assembly and Logistics
Capabilities
Electrical and electromechanical job shops vary in terms of their capabilities, specifically by the types of services they provide. The range of services available is large, so it is important to find a service that satisfies the client's particular needs.
Design assistance - Suppliers assist with concepts, manufacturing costs, manufacturing techniques and material considerations. Suppliers may also be able to assist in upgrading, redesigning, re-evaluating or modernizing existing products to increase performance and/or reduce manufacturing costs. Some suppliers also offer material sourcing and computer-aided design (CAD) modeling.
Part procurement - Suppliers handle part/component procurement, including inventory management and billing activities.
Prototype and low quantity production - Suppliers have capabilities for rapid prototyping and small-run assembly for testing prior to bulk production. Often these suppliers offer very rapid turnarounds.
Large quantity production - Suppliers have the equipment, staff, and materials for large, high volume production runs.
Subsystem assembly - Supplier provides subsystem assembly or smaller subsets of an overall complete assembly. This includes board interconnections, chassis wiring, motor wiring, etc.
Full system assembly (box build) - Supplier provides full system assembly including enclosures, panels, racks, and test fixtures.
Testing and evaluation - Quality assurance or test processes are put in place to ensure the quality of all assemblies. In some cases, suppliers also provide quality/testing documentation and/or testing services for other components/parts.
Just-in-time capability - Suppliers have just-in-time manufacturing capabilities that produce parts on-demand and reduce inventory levels.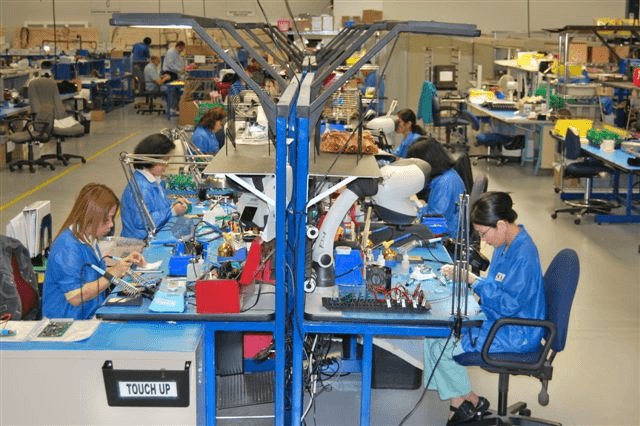 Electrical assembly work. Image Credit: Precision Technology, Inc.
Location
As with most service companies, location is an important selection factor to consider. Companies located farther away from the client may be more expensive to utilize due to the shipping costs of materials and final products. There may also be additional complications when dealing with companies from different countries and oversea locations.
Standards
Some electrical and electromechanical assembly companies may advertise their certification under standards such as:
ISO 9001 - specifies requirements for a quality management system. Organizations that hold this certification demonstrate their ability to consistently provide product that meets the needs of the customer and regulatory requirements, and aims for continual improvement to enhance customer satisfaction.
IPC-A-610 - the most widely used electronics assembly standard in the world which illustrates industry- accepted workmanship criteria for electrical assemblies.
J-STD-001 - the world-recognized sole industry-consensus standard covering soldering materials and processes. It includes criteria for materials, methods, and verification for producing quality soldered interconnections and assemblies.
Image credits:
Quality Assembly and Logistics | Precision Technology, Inc.