Geographic Information Systems Software (GIS) Information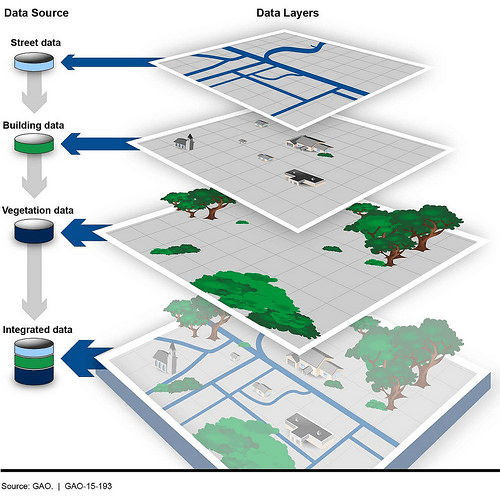 Geographic information systems (GIS) software is designed to collect, store, organize, manipulate, interpret, display, and disseminate geographically-referenced information. Governments, businesses, and other organizations use GIS software to analyze and visualize data in order to find patterns, relationships, and trends.
Typically, GIS software is linked to a map of a city, state, province, region, or country. Some GIS products are simple mapping programs. Others allow users to add data to an online mapping tool and create a mash-up. To describe data according to geography, GIS software may provide a database view, a map view, and a model view. Geographic databases, so-called "smart maps," and various geo-modeling technologies support queries, analysis, and editing for a variety of GIS applications.
Features
GIS software is often used to produce interactive maps. While viewing a computer screen, users can scan GIS maps in multiple directions and zoom in or zoom out. GIS users can also change the types of information that an interactive map displays. For example, geographic information systems software (GIS) for civil engineering projects may allow road builders and bridge builders to show or hide existing highways. Crews can also select other information to display alongside the planned roads. Examples include:
gas lines
storm drains and sewer systems
municipal water supplies
buildings
other man-made structures
Some GIS software for civil engineering may be designed for use on hand-held devices. Typically, these GIS applications are Web-based or Web-enabled. GIS software is used to analyze, manage, and display maps and globes, geographic data sets, geo-processing procedures, and geographically-based workflows and data models. The schema, behavior, and rules of geographic data sets are an integral part of GIS software.
Applications
Although GIS data models are industry-specific, some software suppliers provide design templates that can be used with one GIS platform. Examples of application-based data models for geographic information systems software (GIS) include:
addressing
agriculture
atmospheric research
biodiversity
defense and intelligence
energy
fire service
forestry
groundwater
historic preservation
Data models for GIS software are also available for petroleum and natural gas pipelines, telecommunication networks, and public transportation. Specialized and proprietary GIS software is also available.
Related Information
CR4 Community—Solar Efficiency Mapping for Roofs
Electronics360—Building Walls and Fences: Technology and Border Security
IEEE Spectrum—Grid Resiliency and Stability with Siemens Transformers