Microplate Washers Information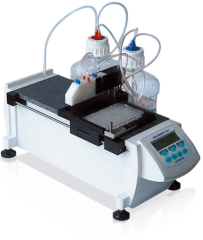 Microplate washers are used to remove reagents from sample wells on microplates and to prepare them for the next step in an assay or procedure. The process involves the dispensation of a wash solution, which, through a series of buffer dispensations and aspiration cycles, removes unbound liquid contents from the wells of the microplate, while allowing bound products to remain. The wash solution is then removed via vacuum suction. Washers are composed of a microplate workstation, incorporating a manifold priming tray, reservoir kit, pump module, and aspirating head to dispense the cleaning solution.
Features
Microplate washers are available in manual and automatic models. Operation of manual washers is completely under the control and operation of the lab technician or researcher. This involves filling the reservoir of the apparatus with the appropriate solutions and preparing a script with the timing of the desired activities, such as:
dispensing
waiting
shaking
aspiration
Once this is complete, a microplate may be inserted into the washer and the process started.
Specifications
Automatic microplate washers are designed to profile microplates automatically, removing human error from the equation. This allows for correct positioning of the microplate and high-quality wash cycle performance. Since microplates come in a variety of sizes (96, 384, and 1536 well plates), automatic washers are designed to read and interpret the size of the microplate for proper cleansing. However, some styles do require hardware attachments to process the different microplate styles. Other aspects of automated microplate washers include a microplate nest that allows a robot gripper to place and remove microplates from the system, and either an internal computer or remote computer interface to control all aspects of the process.

Both automatic and manual microplate washers are available in two specific washing configurations: plate and strip. Plate washers cleanse the entire microplate in one process, while strip washers perform their routine piecemeal, one strip of the microplate at a time.
Related Information
CR4 Community—Engineering/Technology Inspirations
Image credit: