Saw Blades Information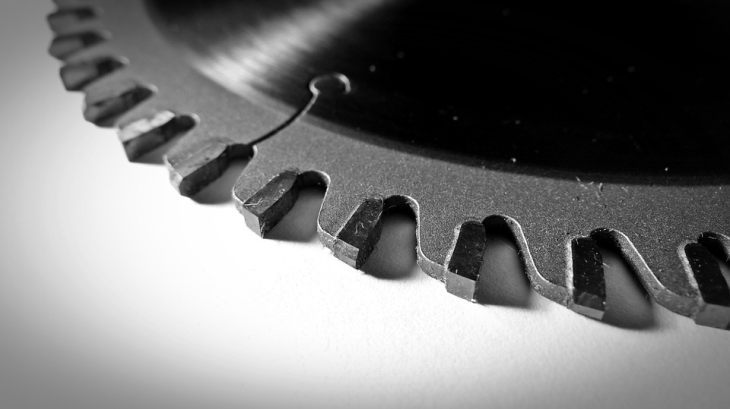 Saw blades are cutting implements used in conjunction with saws and other cutting devices. There are many different types of products.
Types
Examples include:
band saw blades
circular saw blades
diamond saw blades
scroll saw blades
reciprocating saw blades
jig saw blades
concrete saw blades
tile saw blades
Features
A band saw blade fits a band saw and is used to cut irregular shapes in wood or metal.
A circular saw blade fits a circular saw and is used to cut wood.
A diamond saw blade contains diamond-tipped teeth and is used to cut nonferrous metals, ceramics, glass, stone, and building materials.
A scroll saw blade fits a scroll saw and is used to cut curved lines in woods and plastics.
A reciprocating saw blade moves back and forth and is used in building construction.
A jig saw blade fits a jig saw to cut curved, irregular, and ornamental lines.
A concrete saw blade is used with a concrete saw to cut concrete, cement, and similar materials.
A tile saw blade fits a tile saw and is used to cut ceramic tiles, granite, and stone.
Materials
Saw blades are made from many different materials. Steel saw blades are relatively inexpensive and suitable for cutting wood. Most band saw blades are made of steel. High-speed steel (HSS) saw blades are harder than regular steel blades and stay sharp for longer periods of time. Scroll saw blades, reciprocating saw blades, and jig saw blades are all made of HSS. Carbide-tipped blades are more expensive than steel blades and HSS blades, but remain sharp for even longer periods of time. Tile saw blades are usually carbide-tipped. Abrasive blades that contain bonded abrasive materials are designed to cut masonry and metals. A concrete saw blade is usually made of bonded abrasive materials.
Applications
Saw blades are used in many construction, wood working, and metalworking applications. A saw blade can be removed from a saw, but should be used only for its intended application. Safety precautions should be taken when using any saw or saw blade. If used and stored properly, saw blades may offer a long life.
Related Information
CR4 Community—Band Saw Blade Slipping Off
CR4 Community—A Safer Table Saw
Engineering360—The Art and Engineering of Barrel Making