CNC Tool Changers Information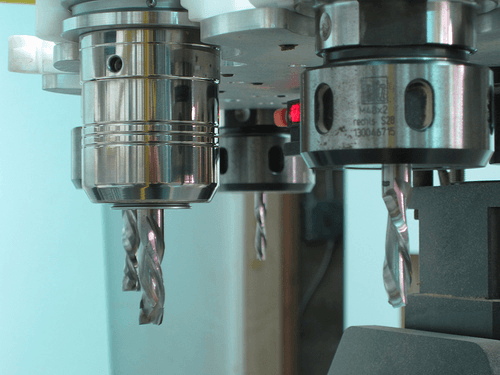 CNC tool changers allow a machine to perform more than one function without requiring an operator to change the tooling. A CNC tool changer can quickly change the end effectors without the requirement of multiple robots. Tool changers can be manual tool changers or automatic tool changers. A CNC tool changer fulfills the requirement of multiple tooling for a wide variety of machine tools. A CNC machine tool raises the productivity by automatically translating designs into instructions for a computer controller on a machine tool. The spindle axis of a CNC machine tool fixes the chucks, which is integral to the lathe's functioning. A CNC tool storage system is an organized, efficient, and secure method of storing tools at all stages and times. The main component of a CNC tool storage system is a CNC tool holder. A CNC tool holder is suitable for vertically storing all types of preset tools. Other CNC tool changers are commonly available.
Features
There are several ways in which CNC tool changers function. CNC tool changers have two sides called the master side and the tool side. The master side mounts to a CNC machine and the tool side mounts to toolings that include:
welders
grippers
deburring tools
A toolchanger is powered by multiple pneumatic and electric connectors.
Specifications
Some specifications of a CNC machine tool include:
maximum machine diameter of 16mm
power consumption of 6.0KVA
water and oil based coolants
12,000min-1 spindle needle
A CNC tool storage system includes tool storage cabinets that are available in various sizes and the drawers have a load capacity of 440 lbs. A CNC tool holder is made of oil-resistant and ABS high impact plastic that protects it from damage. A CNC tool holder is available in various sizes and different horsepower ratings. CNC tool changers are designed and manufactured to meet most industry specifications.
Applications
A CNC tool changer is used in many applications. Some examples include material handling, assembly, dispensing, and welding.
Standards
CNC tool changers adhere to Underwriters Laboratories (UL) standards.
Related Information
CR4 Community—A Good CNC Machine for a Beginner?
CR4 Community-DIY CNC Plasma Table
IEEE Spectrum—Simple 3D Printed Grip Makes Household Robots a Little More Realistic
Image credit:
Luke Gilliam / CC BY-SA 2.0