Surface Plates Information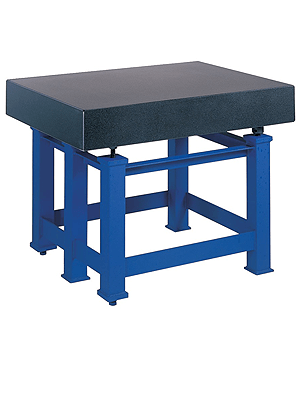 Surface plates provide a precision reference surface for layout, checking, machining, and gaging work. A surface plate is a solid, flat table used to gage the accuracy of a plane surface in:
layout
gaging
tool setting
inspection activities
Types
Two types of surface plates can be used: a granite surface plate or a cast iron surface plate. Granite is considered the best material for surface plates because its properties (e.g., surface hardness, low thermal expansion, no rust or corrosion, little warping, longer wear life) result in very accurate, stable, and precise surfaces. Surface plates should be mounted onto a comparator stand (a very stable cast iron base and an upright column with a mounting bracket for fine adjustments) for precise measurements. Gaging accessories and layout and marking tools may be needed for:
dimensional measurement
inspecting
marking
layout
other machine shop applications
Specifications
Two key specifications that define the accuracy of surface plates are repeatability and flatness. Repeatability is a measure of local area flatness. It states that a measure taken from anywhere on the surface plate will repeat across the plate within the stated tolerance. The flatness of a plate means that all points on the surface are contained within two parallel planes: the base plane and the roof plane. Both flatness and repeatability are critical for accurate measurements and are rated by federal specification GGG-P-463c.
Applications
As manufacturing and engineering specifications require ever-tighter tolerances for shop tools, precise measurements and tool setting has become critical in a wide variety of industries from the local machine shop to aerospace manufacturers. The most common surface plate sizes are 18 x 24 in., 24 x 36 in., 36 x 48 in., and 48 x 72 in. However, surface plates can be custom built to any size, depending on application requirements. Surface plates must be calibrated and resurfaced at regular intervals. Without calibration, the smallest degree of wear on a surface plate can affect its accuracy.
Related Information
CR4 Community—Permanent Magnetic Chunk—Changing Flatness
CR4 Community—Cp/Cpk & Flatness Tolerances
CR4 Community—What Is the Required Straightness of an Ice Skate Blade?
Image credit: