Welding Tables and Fixturing Tables Information
Welding tables and fixturing tables temporarily hold work pieces in place during welding, inspection, testing, and other applications. These tables are rigid and are typically equipped with numerous holes and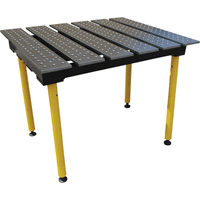 slots to allow clamping down of work in preparation for welding. Two popular product configurations are portable and/or collapsible models.
Welding and fixturing tables are commonly made of metal, such as steel or aluminum. Some tables have a Nitride finish for corrosion and splatter protection. These tables generally stand on four legs; the number of legs increases with the length of the table.
Specifications
The follow specifications determine the functionality of a welding and fixturing tables.
Height: The height of the table.
Table Top Dimensions: The length and width of the table top.
Weight Capacity: The amount of weight the table can hold.
Material: The material the table is made of. Steel is the usual material for welding tables but aluminum is a better choice for welding stainless steel to prevent iron contamination
Features
These features provide additional utility or ease-of-use.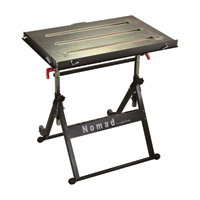 Adjustable Height: The table height can be adjusted.
Anti-Spatter: Some steel welding and fixturing tables will have a Nitride finish which will provide anti-spatter as well as anti-corrosion benefits.
Images credit