Thermal Transfer Ribbons and Foils Information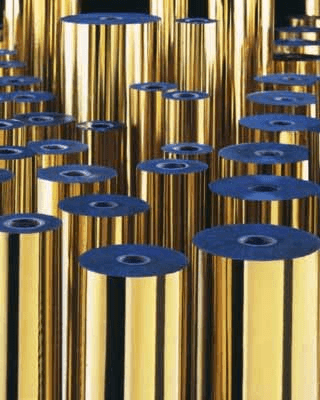 Hot stamping foils or films are used to emboss a metallic or colored finish onto a surface, usually through a thermal bonding or hot stamping process. Width, thickness and length are important product specifications to consider. Typically, the width and thickness for hot stamping foils are measured in inches or fractions of an inch. Thickness, the distance from one surface to another, is usually expressed in mils or thousands of an inch, and is measured under slight pressure with a special gauge. When selecting hot stamping foils or hot stamping films, considerations also include substrate or material compatibility, features, and applications.
Compatibility
Hot stamping foils are compatible with specific types of substrates. They are designed for use with polyurethane foam, porous surfaces, leather, metal, paper or paperboard, plastic, rubber or elastomers, textile or fabrics, and wood or wood products. Hot stamping foils that are compatible with ceramic or glass, concrete or masonry, and composites are also available. Foils are films for foam materials or foam-bonding applications should use an adhesive with chemistries and wetting properties that are compatible with the foam polymer. Typically, the adhesive consistency and viscosity is adjusted for foam or porous materials.
Selection Criteria
Selecting hot stamping foils requires a careful analysis of product features. Some products are resistant to industrial chemicals such as solvents. Others are suitable for outdoor use and resistant to ultraviolet (UV) light, cold, heat, water or other weather conditions. Metallized hot stamping foils have metallized layer, metallic appearance or metal coating. Laminated hot stamping foils bond filaments, foils or fabric to a carrier film to add strength or provide other properties. Reflective films are highly visible and provide warnings about unsafe conditions. Transparent films allow the transmission of light.
Applications
Suppliers of hot stamping foils and hot stamping films indicate the applications for which their products are designed. Choices include:
aerospace
automotive
biotech or pharmaceutical
cable marking
composite processing
construction
electrical
electronics
Hot stamping foils are also used with coated abrasives, HVAC systems, label manufacturing, medical applications, and membrane switch or control panels. Packaging, pipe marking, printing, microwave and semiconductor applications use specialized hot stamping foils and hot stamping films.
Image credit:
Dingword