Mounted Points Information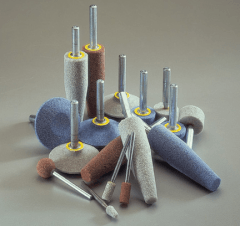 Mounted points are very small bonded abrasives or superabrasive wheels with a ball, point, cone, cylinder, or bullet shape. They are mounted on a pin or mandrel for portable die grinder and deburring applications.
Specifications
Product specifications for mounting points include:
abrasive grain type
abrasive grain size
grit or grating system
performance parameters
applications
bond type
For mounted points with superabrasives, types DW, IG, IGJ, IGA, IGI and IGR may be used.

Mounted points differ in terms of abrasive grain type and abrasive grain size. Choices for abrasive grain type include aluminum oxide, ceramic, silicon carbide (SiC), alumina-zirconia, synthetic diamond, cubic born nitride (CBN), tungsten carbide, and abrasive grains with a metal layer or coating. Abrasive grain size is usually specified according to ANSI, FEPA, or JIS standards; however, micron-graded products are also available. These very fine abrasive grains are graded to micron sizes based on an average particle size.

There are three main performance specifications for mounted points: rotary speed, shank diameter, or bore inner diameter (ID), and outer diameter (OD). Rotary speed is the maximum speed or range recommended by the mounted points supplier. The bore is the ID of the center mount of the abrasive product and is used to mount or hold the abrasive on a spindle or mandrel. The shank diameter is the diameter of the integral shank, pin, shaft, or mandrel on mounted points or wheels. When selecting mounted points, OD should also be considered.
Applications
Mounted points are used in many different applications. Some products are used in dry grinding, wet grinding, material removal or roughing, blending or intermediate cutting, or finishing and deburring. Others are used in polishing and honing, cylindrical or centerless grinding, form or gear grinding, bench or backstand grinding, or portable grinding. Mounted points for cleaning or surface preparation, creep-feed grinding, and tool room or sharpening applications are also available.

Mounted points use different bond types. Metal bond systems are used mainly for superabrasive or tungsten carbide grit products. Silicate or oxychloride bond systems provide low-strength bonds that keep heat generation to a minimum, but that may lack the life and durability of vitrified or resin bonded wheels. Mounted points that use resin, plastic, rubber, shellac, and vitrified bonds are also available.
Related Information
CR4 Community—Diamond Bullet Fired at 1000 KM/S Can Produce Nuclear Fusion, Chinese Researchers Say
Image credit: