Zippers Information
Description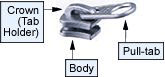 Zippers are temporary fasteners that consist of two strips of fabric, each of which has tens or hundreds of specially-shaped plastic or metal teeth. A slider joins the two sides by pushing the teeth together as it rides along the two sets of teeth.
Zippers can be either open-ended or close-ended in design. Open-ended zippers lock both sides of the zipper into place. Close-ended zippers remain closed at both ends.
Types
A heavy-duty zipper is a made of metal and has a teeth size of 5, 8 or 10 mm when closed. The teeth are molded into shape of the zipper tape at short and regular intervals.
A plastic zipper is similar to a metallic zipper, but uses plastic teeth.
The teeth of a sewing zipper are located behind the tape, which is dyed to match the color of the garment.
The teeth of an upholstery zipper are made of coils.
A clothing zipper is used to replace buttons, Velcro tapes, or buckles. A slider runs on two coils on either side.
Custom zipper are also available.
Methods
Zippers can be positioned to one side of the opening, in a lapped seam, or centered in the opening. The lapped method is used at side seams in garments. The centered method is used for center, front or back openings. It can also be used in an opening in a panel of fabric, such as cushion covers.
As a rule, a zipper's opening should be 3/8 in. longer than the zipper and include some seam allowance at the open end of the zipper.
Standards
A-A-55634 - This document covers slide fasteners used for dress, coverall, aviation, rainwear, sleeping bag, equipage, body bag, chemical protective, anti-gravity (anti-g), diving suit, tentage and other miscellaneous and specialty end item applications.
ASTM D3657 - This specification establishes standard dimensions for zippers of all materials for specified size designation; for equivalency, in inch-pound and metric units, of zipper length and length tolerances, of tape width and width tolerances, and of tape end lengths.
GMW16959 - This specification describes a zipper to aid in the trimming operation of automotive interiors and other miscellaneous applications.
References
Image Credits: