Filler Caps and Fuel Caps Information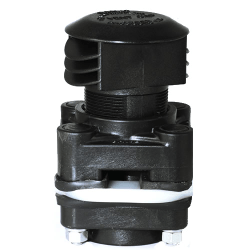 Filler caps and fuel caps seal filling ports in tanks and reservoirs holding liquids or granular media. They prevent the ingress of foreign materials into and the leakage of fuel or media from the reservoir. Filler caps and fuel caps are an essential device on many vehicle reservoirs and storage containers, especially those holding combustible material. Many designs ventilate the reservoir to relieve pressure or vapor, while others provide an airtight seal. Closing methods include fine and coarse threads, quarter-turn connections, and a hinged radial or face seal.
Types
Oil fill caps
Gas caps
Radiator caps
Tank caps
Diesel caps
Hydraulic caps
Race caps
Flush-mount caps
Automotive fuel caps are likely the most well-known example. These seal the fuel system's access port to prevent evaporation and contamination. The devices come in two standard configurations, vented and non-vented. Two alternative-style fuel caps that have gained wide acceptance in the industry are Monza and Aston caps. Aero-style fuel caps are ideal for gas, oil, and water.
Monza and Aston - These closures are either polished aluminum or chrome-plated brass. In the Monza version, a concealed snap -ease mechanism. They are screwed onto threaded brass collars located on the fuel vessel. Mounting on tanks using brass bolt-on flanges with chrome plating is possible as well. Apart from the automotive sector, the Aston and Monza devices are deployed in various fields such as motorcycles, marine, and aviation.
Aero - This type supports a broad range of flanges, weld-on-necks, and flange necks. The style of the flange or neck facilitates connection to a container using an appropriate hose; such elements employ a lever for operation. Most flanged filling structures come with a fixing ring that engages under certain circumstances, for example, a blocked access to the tank or back of the panel. These caps cover a diverse spectrum of applications, including commercial, military, and general aviation aircraft, as well as hydraulic reservoirs.
Applications
Sealing components serve multiple areas and objectives, including:
Fuel
Oil
Water, hydraulic fluid, and chemical vessels
These devices are found on rail, marine, and aerospace vehicles; liquid processing and storage systems; and heavy-duty vehicles such as construction, mining, farm, and forestry equipment.
Specifications
Materials
Filler caps and fuel caps consist of an array of materials, including plastic, steel, aluminum, and brass. The material of construction must have chemical resistance to the fuels encountered. Finishing includes painted, polished or chrome-plated surfaces. Caps may also be left as molded or casted. Aesthetic is also a common consideration.
Sizing
Caps differ based on configuration of filling equipment and containers. Diameter is often related to the rate of fill.
Features
Integral locks can restrict access to the reservoir to prevent tampering or fuel theft. Self-closing mechanisms is another common feature. A tether prevents the cap from getting lost when displaced.
Safety
Gas caps should allow a gradual release of internal pressure when opened to avoid rapid vapor release or fuel spray. Legislation often applies to fuel caps and their implementation. Additionally, many industrial standards apply.
Image credit: