Product Development Services Information
Product development services design, test, support, document, and certify industrial, commercial and consumer products. They differ from dedicated industrial design services, which specialize in the aesthetics and usability of mass-produced parts, components, machines and equipment. Industrial designers consider their discipline to be an applied art, and implement design solutions that accounts for factors such as brand development, ergonomics, engineering, form, marketing, and sales. By contrast, product development services integrate the work of a design team with that of a user group, industrial and mechanical designers, testing and integration group, and manufacturing team. Industrial product developers may also provide project management services for companies in both industrial and consumer-oriented industries.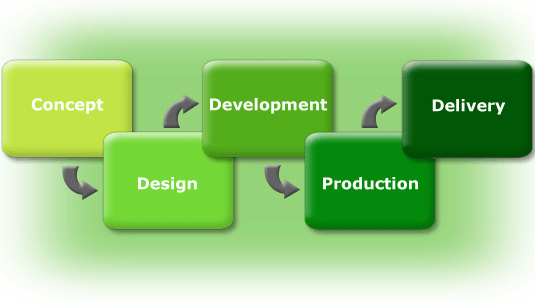 Product development cycle. Image Credit: RAD Global
Product development services that provide design engineering services combine aspects of art, business, and engineering to create products for everyday use by businesses and consumers. Industrial designers with innovative product design skills can conceptualize products in targeted areas such as power tools, appliances, transportation, and medical equipment. Design engineers can also improve the style, function, quality, and safety of existing manufactured products. These improvements in industrial design can help clients remain competitive in a marketplace where both quality and cost must be considered. Unlike dedicated design services, however, product development services can see products through from conceptualization to high-volume production.
Product Development Services
Product development services differ in terms of industries served. Some may specialize in embedded systems, analog and digital devices, or user interfaces. These product developers can also provide project management skills for clients in the industrial, commercial, or consumer marketplace. Industrial product developers are responsible for implementing the work of design engineers in a cost-effective and quality-conscious manner. Company capabilities may include conceptual product design, hardware and software design and development, prototyping, and testing product development cycles in order to provide for a standard framework for planning and managing development efforts. These development cycles may begin with concept, feasibility, definition, implementation, beta testing, deployment, and end of life phases.
| | |
| --- | --- |
| Service Provided | Description |
| | Certification services include companies that test, inspect, register, and/or certify products, components, equipment, instruments, processes, management systems, or facilities, using a variety of methods and standards.Certification services meet the requirements of many standards organizations. Examples include the CE Mark (Europe), FCC (US), VCCI (Japan), DENAN (Japan), TUV-GS (Germany), EZU (Czechoslovakia), RLL (Korea), PCBC (Poland), C-TICK (Australia), PSB (Singapore), IRAM (Argentina), NOM (Mexico), SABS (South Africa), GOST (Russia), T Mark (Taiwan), BSMI (Taiwan), CSA, ETL, GS, UL, cUL, S, CB report, CISPIR, IEC, GSA / QQ, MIL-SPEC, ASTM, Telecordia or Bellcore, ISTA, and OEM specific. |
| | Design support providers offer help in developing product concepts, manufacturing costs, manufacturing techniques, and material considerations such as sourcing. These suppliers may also be able to assist with upgrading, redesigning, re-evaluating, or modernizing existing products to increase performance and/or reduce manufacturing costs. |
| | Electrical design is an engineering service focused on the application of theories for electricity, electronics, and electromagnetism to electrical component or system design. |
| | Electronic design, sometimes known as electronic hardware design, is an engineering service focused on the behavior and effects of electrons within electronic devices, systems, and equipment. For example, electron behavior inside electron tubes and transistors is an area of work for an electronic designer. |
| | Embedded system designers develop special-purpose computer systems having one or a few dedicated functions, often with real-time computing constraints. They specify both hardware and software in the special-purpose system. An example of an embedded system is a datalogger in a chemical plant using Linux for an operating system (OS). |
| | Industrial design service suppliers develop and enhance the appearance, usability, and value of many types of products. Design considerations include product styling and architecture, and ergonomic and safety considerations. |
| | Logistics designers specify a variety of sourcing, warehousing, transportation, and supply chain management options for a product under development. |
| | Materials research service providers undertake scientific study of the properties and applications for materials of construction or manufacture including ceramics, glass, metals, polymers, and composites. |
| | Modeling service suppliers develop conceptual representations to design, analyze, and predict responses and interactions for applications such as materials, structures, chemical and biological processes, electronic system performance, etc. |
| | Product design is the process of generating an idea, developing a concept, and then testing and producing a physical object or intangible product or service. |
| | Product training service providers teach clients how to use purchased industrial products, including newly-developed products. |
| | Project management providers create and guide programs to complete client work, including new product launch programs. |
| | Project planning service providers offer budgeting and scheduling services, sometimes using software tools including Microsoft Project. |
| | Prototyping services provide low-volume conceptual or working models of a design in a short timeframe. Often, they are available from providers of high-volume part services. |
| | Software development service providers create new software for the expressed purpose of managing a particular job function or operational procedure. The new software may be for a computer, an embedded system, a programmable logic controller (PLC), networking equipment, or for any other device requiring programming logic. Firmware and ladder-logic developers are included in this category of service provider. |
| | Systems design is the engineering service of defining architecture, components, modules, interfaces, and data for a system to satisfy specified requirements. |
| | Product testing services is the evaluation of a finished product or component through performance in electrical life, environmental exposure, dynamic, ergonomic, or other specialized tests. |
Product development services may specialize in products for a national or regional marketplace, or for an international audience. For example, some product developers may specialize in the North American, European, or Asian marketplace. Product development services with offices in locations such as China and India are also available.