Drill Collars Information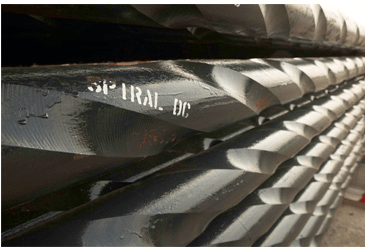 Drill collars are a component of the drill string that makes up part of the bottom hole assembly (BHA). They are thicker-walled, heavier, and more rigid than drill pipes and are primarily used to weigh down the drill bit while dampening vibration and impact forces.
Drill collars are typically machined from solid carbon steel bar stock. They are drilled from end to end and encompass a tool joint at either end; one end male threaded the other end female threaded. The exterior surface may be slightly rounded or rolled to give a smooth round exterior surface and may be described as slick drill collars. They are also offered with exterior helical grooves, referred to as spiral grooves, which help minimize differential sticking to the well bore. Non-magnetic drill collars are manufactured from a nickel copper alloy or other nonmagnetic premium alloy and are used to isolate measurement while drilling (MWD) and logging while drilling (LWD) tools.
Drill collars are significantly heavier than drill pipes and for simple BHA configurations are used for the sole purpose of providing force to the drill bit. In more complex BHA assemblies drill collars are coupled with heavy weight drill pipes (HWDP) and the function of the drill collars not only provides force to the drill bit but also helps achieve directional control.
Standards
GOST 22634 - Gauges for connections of drill pipes with stabilizing collars and tool-joints. Basic dimensions and tolerances.
Resources
Image credit: