From
Measurement and Control Basics Fourth Edition
Many physical properties change with temperature, such as the volume of
a liquid, the length of a metal rod, the electrical resistance of a wire, the
pressure of a gas kept at constant volume, and the volume of a gas kept at
constant pressure. Filled-system thermometers use the phenomenon of
thermal expansion of matter to measure temperature change.

The filled thermal device consists of a primary element that takes the form
of a reservoir or bulb, a flexible capillary tube, and a hollow Bourdon tube
that actuates a signal-transmitting device and/or a local indicating temperature
dial. A typical filled-system thermometer is shown in Figure 7-1.
In this system, the filling fluid, either liquid or gas, expands as temperature
increases. This causes the Bourdon tube to uncoil and indicate the
temperature on a calibrated dial.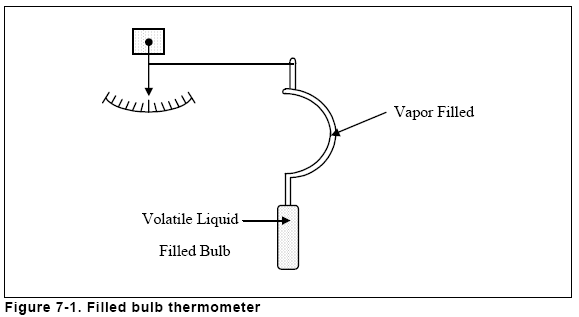 The filling or transmitting medium is a vapor, a gas, mercury, or another
liquid. The liquid-filled system is the most common because it requires a
bulb with the smallest volume or permits a smaller instrument to be used.
The gas-filled system uses the perfect gas law, which states the following
for an ideal gas:
| | | | |
| --- | --- | --- | --- |
| where: |   |   |   |
|   | T | = | temperature |
|   | k | = | constant |
|   | P | = | pressure |
|   | V | = | volume |
If the volume of gas in the measuring instrument is kept constant, then the
ratio of the gas pressure and temperature is constant, so that
| | | |
| --- | --- | --- |
|   | | (7-6) |
The only restrictions on Equation 7-6 are that the temperature must be
expressed in degrees Kelvin and the pressure must be in absolute units.

Example 7-3 shows how to calculate the temperature for a change in pressure
of a fixed volume temperature detector.
© 2007 ISA
---
Products & Services
---
Topics of Interest