About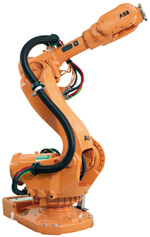 ABB Robotics is a leading supplier of robots and automation for automotive, manufacturing and the consumer goods industry.
ABB Robotics supplies from single cells to systems and entire lines for every step in the automotive production process: from the press shop, automotive components, powertrain engine and axle assembly lines, body in white, the paint shop to trim & final. In the press shop, ABB Robotics supplies doppins, destackers and robotic solutions "from stack to rack." In the body shop,ABB Robotic's FlexiCells™, FlexFramer™, ModulFlex™, Roller Hemmers provide auto manufacturers the flexibility to produce cars and parts quickly. They can supply single robot paint cells to complete paint shops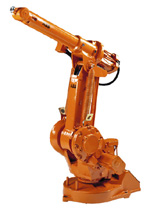 and provide robotic solutions for interior systems as well as trim and final.
ABB Robotic's robots are used in a wide range of applications - from automotive and component suppliers to off-highway equipment plants, and the food, pharmaceutical and consumer electronics industries, through to placing chocolates in boxes.
In 2002, ABB Robotics was the first robot manufacturer to produce more than 100,000 robots supplied worldwide.
"This is a big milestone for them as a company and sends a strong signal to their competitors, said Jouko Karvinen, executive vice president and head of ABB Robotic's Automation Technology Products division. -They are the world's first company to sell this many robots, which means their customers - from car-makers to medication sorters - have tremendous confidence in their technology. It also means they have the largest installed base of robots globally."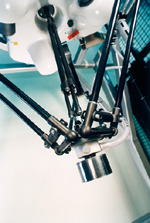 ABB Robotics produced its first robot in 1974. At that time, the company's robots were mainly used for machine tending and material handling. Nearly 30 years later, that market accounts for some 30 percent of robots sold worldwide. According to the International Federation of Robotics, welding-spot and arc, particularly in the automotive industry, is today's largest robot application.
In the mid-1980s, they rounded out their portfolio of robots, adding special painting robots, again geared to the automotive and general manufacturing industry. They worked to innovate with software specific applications, said Karvinen.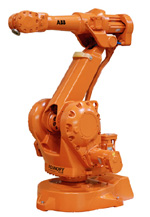 ABB's robotics team, working in locations such as Sweden, Norway, the United States, Germany and Japan, has in recent years continued to broaden its range of robots. Among many other applications, ABB robots pick chocolates and place them into trays or containers, and sort pills for pharmaceutical giants. American-based consumer goods companies use ABB robots for building and painting motorcycles and the U.S. postal service uses ABB robots to sort and palletize mail tubs and trays.
ABB's robots are ahead of the industry curve when it comes to software packages for increasing efficiency and productivity. In 1994, ABB Robotics introduced TrueMove and QuickMove features which have resulted in improved cycle time and increased quality in the manufacture of goods. ABB Robotics was the first robot manufacturer to introduce robot simulation software (RobotStudio) for use on a standard Windows PC. Users have the ability to layout and design cells, create and edit programs, check for reach, cycle time, collision interferences without interrupting production.
In 2004/2005, ABB Robotics introduced globally, its new IRC 5 controller which can control up to 4 robots and twelve external axes and has features such as MultiMove and FlexPositioner-cycle time savers, floor space savers and cost reducers.
Supplier Directory Categories
ABB Robotics is listed in these categories:
Technical Articles