About

AI-Tek Instruments, LLC designs and manufactures electronic and electromechanical products which protect, monitor and control. By being sensitive to customer and employee needs and dedicated to technological development, AI-Tek Instruments strives to provide the highest quality products and services at a competitive price.
This is the AI-Tek Instruments philosophy. It has its base in the quality of people, products and technology. We expect to grow domestically and internationally through new product development, sales, and acquisitions.
AI-Tek Instruments has at its disposal a breadth of resources unparalleled in the industry. We are ready to put the AI-Tek Instruments quality commitment to work in the form of engineered solutions to our customers' problems.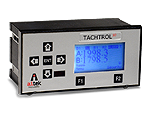 Formerly known as Airpax Instruments as part of Philips North America Corporation, it was sold to VDO Control Systems, Inc. in 1998 who sold the Airpax Instruments portion of the business to AI-Tek Instruments, LLC in 2001.
With over 60 years of experience, we at AI-Tek Instruments look forward to providing you with improved levels of service and products and with continuous growth, domestically and internationally, in the years to come.
Supplier Directory Categories
Technical Articles