About
Keil®, tools by ARM®, makes C compilers, macro assemblers, real-time kernels, debuggers, simulators, integrated environments, evaluation boards, and emulators for ARM7/ARM9/Cortex®-M, XC16x/C16x/ST10, 251, and 8051 MCU families.

ARM Inc. was founded in 1986 to market add-on products for the development tools provided by many of the silicon vendors. It soon became evident that there was a void in the marketplace that must be filled by quality software development tools. It was then that ARM implemented the first C compiler designed from the ground-up specifically for the 8051 microcontroller.

Today, ARM Inc. provides a broad range of development tools for the embedded systems marketplace. Their products include ANSI C and C++ compilers, macro assemblers, debuggers, linkers, library managers, and real-time operating systems. Products such as these have helped ARM become the world's leading developer of Embedded Systems Software.
Since its beginning, ARM has driven the industry to new heights with advanced software technology. Their constant, hard-driving research has paid off time and again as they continue to develop innovative products that make product development easier.
The Keil Development Tools are designed to solve the complex problems facing embedded software developers.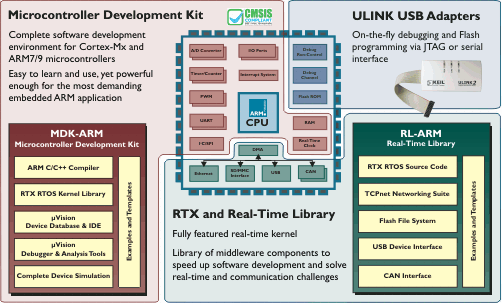 When starting a new project, simply select the microcontroller you use from the Device Database and the µVision® IDE sets all compiler, assembler, linker, and memory options for you.
Numerous example programs are included.
The Keil µVision® Debugger accurately simulates on-chip peripherals (I²C, CAN, UART, SPI, Interrupts, I/O Ports, A/D Converter, D/A Converter, and PWM Modules) of your device. Simulation helps you understand hardware configurations and avoids time wasted on setup problems.
When you are ready to begin testing your software application with target hardware, use the MON51, MON390, MONADI, or FlashMON51 Target Monitors, the ISD51 In-System Debugger, or the ULINK® USB-JTAG Adapter to download and test program code on your target system.
Keil development tools for ARM7™, ARM9™, Cortex®-M0, Cortex®-M1, Cortex®-M3, Cortex®-M4 and Cortex®-R4 microcontrollers are easy to learn and use, yet powerful enough for the most demanding embedded applications.
Supplier Directory Categories
Technical Articles

CAN Primer (.pdf)
(Application Development and Deployment Software)
CAN is extensively used in automobiles and trucks but has found applications everywhere. There are many application layers available for CAN, however, it is very easy to develop your own protocol that... (
View Full Article
)

Keil uVision and Actel SmartFusion (.pdf)
(Application Development and Deployment Software)
This application note describes how to use the Keil Development Tools with the Cortex-M3 processor-based SmartFusion family of devices. It also demonstrates the use of Serial Wire Viewer (SWV) debug... (
View Full Article
)