About
We offer the perfect synergy of experience, automation technology, and scale to advance factory automation solutions for the world's leading manufacturers.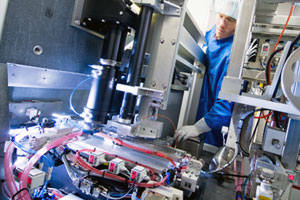 ATS Automation provides innovative, custom designed, built and installed manufacturing solutions to many of the world's most successful companies. Founded in 1978, ATS uses its industry-leading knowledge and global capabilities to serve the sophisticated automation systems' needs of multinational customers in industries such as life sciences, computer/electronics, energy, transportation and consumer products.
It also leverages its many years of experience and skills to fulfill the specialized automation product manufacturing requirements of customers. ATS employs approximately 3,500 people at 23 manufacturing facilities and over 50 offices in Canada, the United States, Europe, Southeast Asia and China. The Company's shares are traded on the Toronto Stock Exchange under the symbol ATA.
Industry-leading technologies
Bringing thousands of unique automation projects to market has helped us develop an extensive range of automation technology and experience.
Here are just a few examples:
Industry-Leading Vision Technology
Our popular ATS SmartVision™ technology uses programmable software to control virtually any industry-standard third-party camera and lighting system and perform high-precision part and defect identification, measurement, sorting, and robotic guidance.
Laser Processing
Our core competency in high precision, sub-micron high accuracy integrated motion control, combined with vision guided motion, means that we can tackle even the most difficult applications. And, our experience in complying with CE and cGMP standards gives us the edge supplying full turnkey manufacturing solutions, regardless of location or market.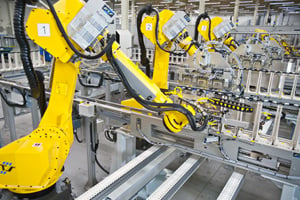 Material Handling Platforms
Here are just some of the automation technology solutions we use to deliver on our commitments.
Our ground-breaking ATS SuperTrak™ pallet conveyor, with its sophisticated controls package, delivers greater capability and flexibility, optimum performance, and overall higher return on your automation investment.
The ATS850™ cleanroom conveyor is designed for applications where high reliability, cleanliness, ESD control and non-contact queuing are process requirements. This asynchronous transport system is ideal for manufacturing environments in the semiconductor, pharmaceutical, disk drive, and flat panel display industries.
sortimat's Discovery™ rotary indexing machine assembles market-ready products in large quantities and accommodates between 12 and 20 stations as standard. As well, the sortimat Jetwing™ linear assembly system lets you switch to a new product virtually overnight. And, the sortimat Spaceline™ chassis provides high performance and flexibility while meeting the most challenging manufacturing requirements.
Explore our Product Shop for a complete list of standard products and our Technology Portfolio for a look at some of our expertise.
Supplier Directory Categories
Technical Articles

24/7 Technical Support Success Story
(Industrial Automation Services)
To ensure that a call never gets missed, two programmers are always on call at any given time. The customer's machine operators, technicians and engineers can always connect to an ATS support person... (
View Full Article
)

600 MW Solar Facility Success Story
(Manufacturing Equipment and Components)
With our customer's vision to produce a state-of-the art, automated solar cell facility, the plant-wide interconnect automation was a key piece of making the vision a reality. A combination of scale... (
View Full Article
)