About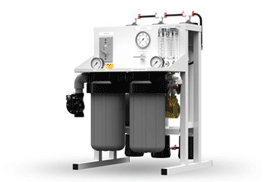 ENGINEERED WATER TREATMENT SOLUTIONS


AXEON Water Technologies is a complete solutions provider for membrane systems, elements, housings, chemicals and components for industrial, commercial and residential applications.
AXEON has invested more than two decades in the research, engineering, manufacturing and distribution of water treatment products. We are proud to have earned the trust and respect of industry experts and of our customer base around the globe.
Our customers select AXEON as their membrane water treatment provider because they value our commitment to:
Manufacture high-quality systems that meet international water purity standards for point-of-use and point-of-entry applications
Provide exceptional customer service to our customers
Stock inventories that exceed our customers' demands
Provide technical, sales and marketing support that improve our customers' efficiency and their customers' satisfaction
Maintain a constant focus on innovation and improved system design
At AXEON, we are determined to continue as a leader in membrane technology and innovation, to better serve our customers and support their success.
Contact us today at 800-320-4074 to discuss how AXEON Water Technologies can become your Engineered Water Treatment Solutions provider.
Supplier Directory Categories
AXEON Water Technologies is listed in these categories: