About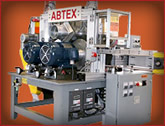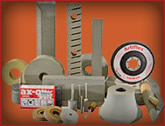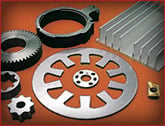 ABRASIVE FILAMENT
BRUSHES
DEBURRING
SYSTEMS
ELASTIC BONDED
ABRASIVES
APPLICATION
SOLUTIONS
Abtex Corporation has been designing and manufacturing application specific abrasive nylon deburring brushes and machinery since 1980.
Abtex brushes are engineered tools. A flexible and unique manufacturing process allows us to infinitely vary any aspect of the brush. Our engineering approach and our applications laboratory enable us to produce a brush that meets your specific needs. This approach ensures that Abtex will provide the most effective and efficient design possible.
As we develop brushes for new applications, our Systems Group responds with automated brush deburring systems. Should you need an automated process, Abtex is uniquely positioned to provide a system designed to extract the maximum performance from our brushes.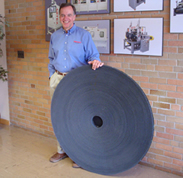 The photo shows me standing next to a 48" disc brush. While currently our largest disc brush, it does not represent a limit for us, but by no means is it all inclusive. If you are looking for something specific and don't see it, give us a call. We can make it for you. Likewise, if you simply think that an abrasive filament brush might represent an answer for your application, call us. With our extensive applications experience, we can quickly offer guidance.
Our research & development is customer driven.
Nearly all Abtex products are custom designed and built right here in the United States, in New York State's Finger Lakes region. We develop new products in response to customer needs. We encourage customers and prospective customers to ship parts to our lab. Our engineers and technicians will simulate your production operation in our applications lab. The parts will be returned to you with a report detailing the procedures used to finish the part and a proposal for designing and fabricating a production system for the process. While we usually use brushes from this catalog in our applications lab, the way in which they are used and the machinery we design may be based on one of our standard systems, or we may customize a standard system, or, more often, we could design a completely new system.
The goal of our applications engineers is to find the most productive and economical deburring method for each of your applications.
Industries Served
Abtex Corporation provides a wide range of products for various industries including:
Aerospace/Aircraft
Automotive
Military
Industrial
Medical
Metal Finishing
Woodworking
Supplier Directory Categories
Abtex Corporation is also listed in these categories:
Technical Articles