About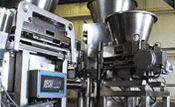 The last 40 years have brought dramatic changes to Schenck AccuRate and to the range of bulk solids handling products and controls we offer customers in the food, pharmaceutical, plastic and chemical industries. From a small innovative flexible-walled volumetric feeder manufacturer in south central Wisconsin, Schenck AccuRate has evolved into a major supplier of volumetric and gravimetric feeders, impact plate and coriolis dry material flow meters, weighbelt feeders, belt scales, bulk bag discharging stations, controlled rate dischargers, louvered vibratory feeders, controls and custom systems.

Organizationally, since 1994, Schenck AccuRate has been a wholly owned affiliate of 125 year old Schenck Process, Darmstadt, Germany. Schenck AccuRate and other Schenck affiliates in Europe, UK, China, Australia, Singapore, India, South Africa and Brazil provide sales, service and engineering support to customers worldwide.

Technically and operationally, Schenck AccuRate, is an ISO 9001 certified, fully self-contained manufacturer of bulk solids handling products, systems and controls. Today, numerous patents and awards for technology and innovation are associated with Schenck AccuRate products like SacMaster® bulk bag discharging systems, MECHATRON® volumetric & gravimetric screw feeders and DISOCONT® modular gravimetric control systems.

Material testing is ultimately, the surest way to evaluate a feeding system's performance. That's why Schenck AccuRate offers its customers free access to its fully equipped test lab. Trained and experienced test technicians use a Jenike & Johanson Shear Tester and actual equipment to arrive at the optimum equipment configuration for a given material. With over 30,000 feeders shipped to destinations worldwide, there's a wealth of experience we can apply to each customer's material and situation.
Supplier Directory Categories
AccuRate/Schenck AccuRate is also listed in these categories:
Technical Articles


Brick Manufacturer Case Study
(Materials Processing Equipment)
Brick and Tile Corporation of Lawrenceville located in Lawrenceville, Virginia is a manufacturer of bricks for building both residential and commercial structures. Due to high demand of their... (
View Full Article
)