About
Acromag is a multi-million dollar international corporation that combines more than 50 years of process monitoring and control experience with a solid background in high-tech computer design. Established in 1957, Acromag built its reputation designing critical measurement instrumentation equipment for the petrochemical and aerospace industries. Acromag, Inc. was soon recognized internationally as a leading designer of analog and digital control products for the industrial I/O market.Today, Acromag's product line encompasses a wide variety of I/O devices for manufacturing, military, scientific, public utility, and transportation applications. For process instrumentation, Acromag's signal conditioning line features more than 100 transmitters, isolators, alarms, and computation modules. If networked I/O is required, Acromag offers analog and discrete I/O modules for Ethernet, Modbus, and Profibus. For real-time control systems, Acromag provides a full line of high-performance analog, digital, serial, and FPGA I/O bus boards for VMEbus, PCI, and CompactPCI® computer systems including IndustryPack® and PMC mezzanine modules.Experience makes the difference.
Acromag's years of experience in designing industrial I/O have given Acromag a clear understanding of the problems associated with industrial measurement and control. Solutions to ground loops, RFI/EMI noise, and temperature drift are designed into every product to assure precise operation in hostile environments. Many products are available with agency approvals such as UL, cUL, FM, CSA, ATEX, CE, and others.In addition to the over 3800 products available for shipment, Acromag has 50 years' experience modifying units and producing custom products. Once a modification is defined, Acromag enters it into their documentation system and it becomes available as a standard product. This means that it can be re-ordered at any time in the future simply by using the assigned model number.You will find that Acromag products routinely out perform their listed specifications.
Printed specifications reflect minimum performance standards that every product must meet or exceed before shipment. These conservative specifications guarantee a repeatable level of performance for all applications.Strict quality control measures further assure you of the finest product. State of the art manufacturing and test equipment keeps Acromag's products the best in the world. All products are built to comply with IPC-A-610 Class II standards by IPC-A-610 certified assemblers, inspectors, technicians and supervisors. Printed Circuit Boards are purchased to IPC-6012 Class III standards and receive 100% in-house inspection. An advanced water purification and board cleaning system plus adoption of the ANSI/ESD S20.20 standard as a guide for controlling static discharge further ensure high-quality products. These safeguards and more are all part of Acromag's quality management system which is certified for compliance with AS9100 and ISO 9001:2000 quality standards.Doing business with Acromag is easy. A global network of sales representatives and distributors gives you local access to friendly, highly-trained control professionals that can help you select the right products for your needs. Product information and online ordering are also available on their website. Customer-driven service programs include fast, on-time delivery (24-hour shipment on many products), standard 2-year warranty on all products, and convenient credit card ordering.
Technical support is available from a team of experienced application engineers to help you find the best solution or to troubleshoot your system.Learn about FPGA-based system design for embedded computing I/O signal processing applications via Acromag's educational Webinar: Designing with FPGA Modules for Computing Speed and Flexibility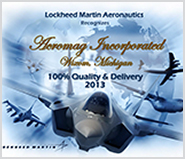 Lockheed Martin Aeronautics Company recently thanked Acromag for our commitment to excellence with 100% on-time deliver and quality of products.
Mr. Tom Simmons, VP Supply Chain Management and Mr. Alex Eksir, VP Quality and Mission Success also wrote: "Your ability, workmanship, and superior standard of performance have been instrumental in supporting the commitments of Lockheed Martin to its customers."
Supplier Directory Categories
Acromag, Inc. is also listed in these categories:
Technical Articles

Electrical Ground Rules Series
(Signal Conditioning)
This paper looks at grounding and its role in protecting personnel, protecting equipment, and ensuring the integrity of electrical signals. In this part, we will review circuit grounding and its... (
View Full Article
)