About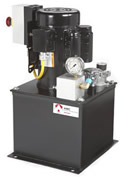 Advance Motion Control (a division of Devine Hydraulics Inc.) offers a growing line of standard power units to assist you with your hydraulic applications. Based on a modular design concept for consistency, low cost and quick delivery, Advance Motion Control's standard power units range from 5 to 30 gallon units, providing 0.5 to 10HP and 1.0 to 12.00 GPM, with operating pressure to 3,000 PSI, all available with various options for your particular solutions.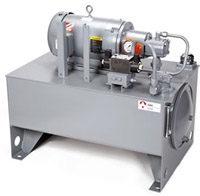 AMC's mission is to "build the highest quality power units available to any industry, in the unprecedented shortest lead times with highly competitive pricing. To train their employees about products, safety and environmental issues. To provide their employees with good working conditions, salaries and benefits. Which in return will strengthen their commitment to their customers and community and allow the company continued growth as an industry leader."
Hyraulic power units can generally be used in any application that requires heavy and systematic lifting or other requirements for the repeated use of powerful and directional force.

"Service and Repair of Hydraulic Equipment"


"Manufacturer of Rigid and Flexible Tubes
and Hoses"
Supplier Directory Categories
Advance Motion Control (a division of Devine Hydraulics Inc.) is also listed in these categories: