About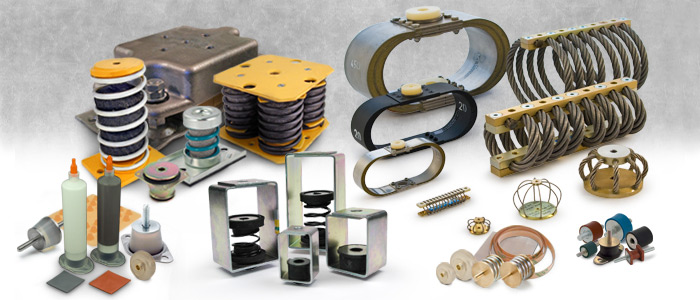 A Global Leader of Shock and Vibration Isolation Across All Industries
AAC has over 8000 products in their portfolio. No matter what your application demands, our eStore makes browsing easy with online purchasing, pricing and availability. We have the largest selection of shock, vibration and noise isolation mounts including Leaf Springs, Air Springs, Wire Rope Isolators, Leveling Foot Mounts, Bumpers, HVAC Hangers, Pads, Shaft Couplings and more.
Aerospace and Defense
AAC provides a variety of anti-vibration products suitable for use in the Aerospace and Defense industries. Our stainless steel mesh leaf springs are impervious to corrosion with operating temperature up to 700°F. These are well-suited for naval or ground vehicle applications. Our rugged cable isolators and other similar products have also been used in tanks, drones, missiles and marine applications.
Architectural
AAC solves ground borne vibration and structure borne noise & vibration in commercial buildings. Ground borne vibration is generated by railways, road vehicles, and construction equipment which can be transmitted through the ground into a nearby building structure. Structure borne noise and vibration are fundamental problems confronting occupants, engineers, contractors, facilities managers and building owners. These are caused by fans, HVAC equipment, elevators, plumbing equipment, and machinery. Our seismic mounts restrain the motion of air conditioner units, chillers and other devices from wind shear and earthquakes.
Electronics / Optical
AAC specializes in shock absorption, vibration isolation and thermal management for the electronics field. Applications include but are not limited to computer disk drives, CPUs and motherboards, computer printers and peripherals, smart phones, tablets, semiconductors, power supply equipment, small pumps, fans, compressors and more.
Industrial
For industrial applications such as agricultural and garden equipment, construction, mining, oil field machinery, power-driven hand tools, engines and turbines, fuel tanks, pumps, compressors, fans, blowers, off-road vehicle, vibratory equipment, and conveyors we offer a wide range of products for shock and vibration isolation.
AAC offers isolators for office equipment, furniture, cabinetry and audio/video equipment. Our swivel screw foot mounts feature 15° of swivel, have a non slip base and can be used in all types of office equipment and furniture. For high temperature applications see our silicone gel, thermal gel, wire mesh, stainless steel wire rope, silicone rubber, durulene, and EPDM rubber products.
Manufacturing and Factory
Manufacturing machinery such as CNC equipment, stamping presses, conveyors, air compressors, milling machines, boring machines, centrifuges, lathes, forging hammers, precision equipment and grinders require vibration isolation or shock absorption. AAC offers over 8000 options included FDA approved levelers for the packaging industries.
Medical
AAC provides isolators for the medical industry including but not limited to pharmaceutical machinery, optical equipment, cardio-respiratory equipment, dental equipment, and MRI scanner generator, life science cameras, blood analyzers, genomic analyzers, gas analyzers, cytometers, pumps, fans, motors and more.
Transportation
AAC provides shock and vibration mounts for transportation like rail trains, trucks, buses, motorcycles, amphibious vehicles, ATVs and RVs for added safety of the operator, passengers and cargo. Our leaf springs, cable isolators, M style, V style, and shear mounts provide multi-axial isolation.
Supplier Directory Categories
Technical Articles