About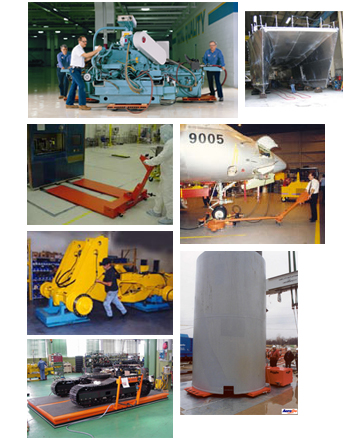 Easily move 500 lbs. to over 5,000 tons using air casters
AeroGo, Inc. manufactures and engineers innovative load moving solutions using air casters for loads from 500 pounds to over 5,000 tons. The use of air casters to precisely move sensitive and/or exceptionally heavy loads has been proven for over 40 years in aerospace, military, cleanroom, rigging, tooling, manufacturing, paper, marine, modular home, and power generation industries.
Built by the leader in air caster technology, Aero-Casters offer significant advantages to traditional material handling:
Ultra Low Friction
Omnidirectional Movement
No Floor Damage
Use existing compressed air source
Precise positioning
Low profile
AeroGo manufactured products include air casters, air pallets, air planks, auxiliary load modules, load module systems, transporters, turntables and drives. All AeroGo products are certified to comply with SAE AS9003:2001 and ISO9001:2000.
AeroGo excels in providing practical and efficient methods of rotation, alignment, transfer, location and movement of materials and products. An in-house team of engineers supplies a wide range of standard or custom designed systems to meet assembly, tooling and material handling needs for large, awkward and heavy loads.
Over the years AeroGo has become a problem-solving company that provides customers with solutions to their assembly and load moving problems using wheel Transporters, rails, Aero-Casters or stationary manipulators. AeroGo products are distributed worldwide via an authorized dealer network.
AeroGo: innovative load moving solutions since 1967
Supplier Directory Categories