About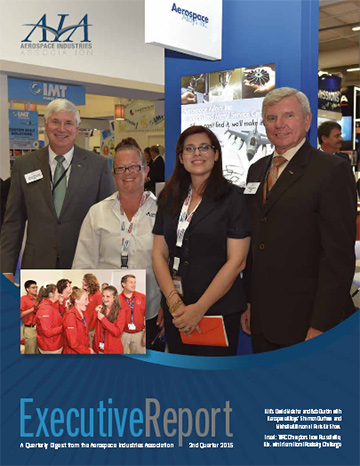 The Aerospace Industries Association (AIA), founded in 1919 only a few years after the birth of flight, is the premier trade association representing major aerospace and defense manufacturers and suppliers in the United States.

Based in Arlington, Va., AIA is led by a Board of Governors that meets twice a year and consists of senior representatives of member companies at the c-suite level, and an Executive Committee that meets more frequently. A hallmark of AIA is that it receives its policy guidance from the direct involvement of CEO-level officers of the country's major aerospace and defense companies. The government frequently seeks advice from AIA on issues, and AIA provides a forum for government and industry representatives to exchange views and resolve problems on non-competitive matters related to the aerospace and defense industry.

Today, more than 300 major aerospace and defense companies and their suppliers are members of the association, embodying every high-technology manufacturing segment of the U.S. aerospace and defense industry from commercial aviation and avionics, to manned and unmanned defense systems, to space technologies and satellite communications.

The association concentrates on issues covering civil and commercial space, civil aviation, defense and security and international. In addition, the association has offices for Communications, Legislative Affairs, and Membership Services. Other significant assets of AIA include Second to None, the Supplier Management Council, the Team America Rocketry Challenge and the Aerospace Research Center.
Supplier Directory Categories
Aerospace Industries Association (AIA-NAS) is listed in these categories: