About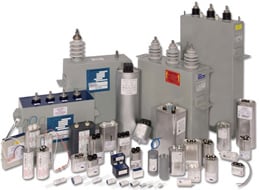 Aerovox is a leading provider of film capacitors for industrial, medical and specialized applications serving original equipment manufacturers (OEM) and distributors. The company has world-class design, manufacturing and testing facilities in New Bedford, Massachusetts and global manufacturing facilities in China and India to enable quick turn-around for shipping and delivery worldwide. Aerovox capacitors are sold directly from our New Bedford facility and through global distributors and representatives.
Aerovox capacitors are among the world's most reliable components. The company's products are designed, manufactured, and tested using state-of-the-art technologies and computer-integrated manufacturing systems under an ISO 9001 quality management system. Accelerated life testing (ALT) programs at Aerovox total over 500 million component test hours annually. All capacitors undergo 100% outgoing electrical and visual testing prior to shipment
Aerovox product lines include film capacitors for HID and ballast lighting, motor run, IGBT snubber, power factor correction, defibrillator, commercial microwave, high voltage, power conversion, high energy discharge pulse power, and other applications. Aerovox capacitors range from .001 to 30,000 microfarads in AC voltage ranges from 120 VAC to over 50,000 VDC. Case styles include industry standard oil-filled metal cases (oval & round), dry round and rectangular plastic cases, axial-lead "wrap & fill," and custom cases for customer specific requirements.
Extensive custom design and development capabilities coupled with broad, standardized product offerings allow Aerovox to provide intelligent capacitor solutions that meet or exceed customers' application requirements.
Supplier Directory Categories
Technical Articles