About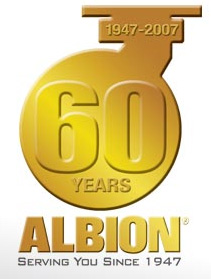 Check our overstock inventory site for the best deals on Albion casters!

Since its founding in 1947, Albion has evolved into The Caster Experts and one of the most recognized names in the material handling industry. That's because Albion does more than just sell wheels and casters. They deliver custom-engineered, reliable solutions for the most challenging material handling problems.
As a world leader in the design and production of industrial and institutional wheels and casters, Albion's growth is built on the challenges nobody else will take. Many custom-designed casters have become industry standards. And experienced engineers equipped with the latest design and manufacturing technology create casters that deliver optimal performance for virtually every application, load size, work environment and budget. For example, consider the custom engineered solutions to move the Liberty Bell or one of America's giant reconnaissance aircraft.
You will select Albion casters with confidence through their highly-trained and responsive distributor network. As a member of Colson Associates, Inc., a worldwide business that includes plastics, hardware and medical products, you can be sure Albion will have the resources and staying power to service and supply your needs for at least another 60 years.

Supplier Directory Categories