About
Algus is an established manufacturer of sealing machines, thermoforming packaging and full service contract packaging. Their unique combination of products and services enables Algus to provide quality components for a packaging project.
The Algus tradition encompasses over forty years of experience in the heat seal and thermoforming / packaging industry. Algus utilizes its 330,000 square foot facility in DeKalb, Illinois to meet the unique needs of their packaging customers.
Because of their strategic Midwest location, Algus can provide a cost effective solution to businesses' packaging needs. Their products and services are within a day's travel of 80% of the Midwest's major population center. This is a key location in these days of high transportation costs and just-in-time packaging planning.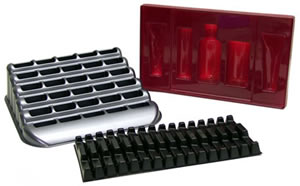 Thermoforming Division
In addition to the thermoformed components, several value added services are offered to Algus' customers through this division.
Design through prototype work is performed in-house by a highly competent and experienced engineering team. Prototype and production tooling is built in their tool room where they have the finest tool making equipment available.
The project engineer is personally responsible for each new production job from beginning to end.
Sealing Machine Divisio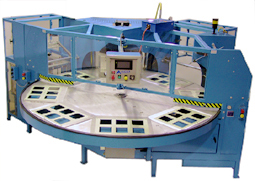 n
Algus' manufacturing processes for Sealing Machines reflect the latest thinking in materials, design, and production. They have high-end design technology and state-of-the-art machining centers to create the finest machines available.
Algus supplies equipment to three major markets. 6 automatic and 2 semi-automatic standard models for the CPG markets, as well as 2 automatic and 2 semi-automatic models for the medical and pharmaceutical markets. Their equipment provides sealing area ranges from 8x10 to 14x28 inches
All sealing machines can be configured to utilize a variety of sealing technologies, including heat seal, RF and ultrasonic.
Contract Packaging Division

Algus' contract packaging division is where all of their core competencies come together. Their contract packaging division runs 8 automated machine lines for production, two additional lines for custom hand assemblies when automated methods are not possible or cost effective. A tenth line is used solely for conversion.

Because of their unique blend of engineering and production abilities, Algus has the ability to expand or modify production on short notice to meet demanding time constraints of their customers.

Algus currently services consumer packaged goods (CPG), including electronics, hardware and household items.
Supplier Directory Categories
Algus Packaging, Inc. is also listed in these categories: