About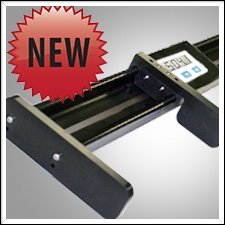 American Precision Gauge was established specifically to create, design and build Linear Digital Measuring Devices (LDMD)
.
LDMD's are a caliper style contact measuring device using quasi-incremental encoding and low voltage LCD displays.
The newest LDMD 3.0 with 48" inches of measurable travel is:
Light weight all aluminum construction at 12 pounds
operates on 2 AAA batteries user replacable
Works in absolute or Incremental mode
Inch or Metric Display to fourth decimal
Accurate to within .005" of the nominal anywhere along its 48" travel
Repeatable to .001"
Accuracies verified via Laser Interferometer traceable to NIST standards
Laser accuracy report accompany each device for error compensation calculations
Programmable display with offsets, reference points, sleep time, zero reset points
Smooth easy motion with minimal pitch, roll or yaw.
Precision sliding motion with minimal replacable wear items
measures up or down and is reversible
No wires to tangle and is easily transportable
No 110 V ac required, no separate DRO required
Adaptable and reversible end of arm tooling
Custom end of arm tooling available easily adapted to LDMD carriage
Each LDMD can accommodate special tooling arms and end plates easily referenced off locating pins and datum surfaces.
Hand Held 48" and 70" measurable lengths standard with a 110" mounted measurable length as an option
Tables and Rolling stand options available for mounting as well
The LDMD was created as a solution to one of those situations where there was no good alternative. For years providers of shafting, piping, wood products and other longer length type materials were measured by tape measure or very expensive, heavy and hard to read vernier calipers or expensive laser devices. As time went on length tolerances became more and more exacting and demand for precision cuts increased dramatically.
The original LDMD 1.0 used linear encoders and read heads requiring seperate DRO's, a constant supply of 110 V ac power and was very heavy. Accuracies were excellent and virtually impervious to washdown and coolant sprays and held exceptional accuracies.
The second generation called the LDMD 2 specialized in round diameters up to 4" in diameter and lengths to 12' that fit into the center of the base for easy loading and measurement. These products still exist but American Precision Gauge has evolved and offers newer technology, easier to use, adaptable and transportable at minimal cost.
Want to learn more about American Precision Gauge, LLC and our line of Linear Digital Measuring Devices (LDMD)? Click below or call us at 714-340-0580 or visit us at
http://www.apgauge.com
Supplier Directory Categories
Technical Articles

Advances in Linear Digital Measuring
(Inspection Tools and Instruments)
New Linear Digital Measuring Device (LDMD) or Long Travel Calipers from American Precision Gauge, LLC. Standalone handheld units measure to 48" accurate within .005" over the full travel with .001"... (
View Full Article
)