About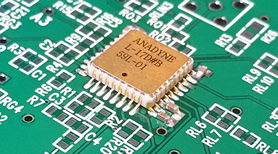 Anadyne Inc. has designed precision analog devices since 1986.
ANADYNE, INC. was incorporated in Santa Cruz, California, in May, 1986, for the purpose of the design and sale of high-precision analog integrated circuits. ANADYNE is best known for its development of logarithmic video-bandwidth amplifiers (LVAs). The L-17C LVA was introduced to the world market in 1988. This award-winning product became recognized as the world leader in the areas of stability, dynamic range, and low noise, among LVAs in the DC- to 50-MHz bandwidth range. The L-17C has been used in many applications on a global basis for two decades.
In 2006, the L-17C was replaced by a higher-performance LVA, designated the L-17D. Since then additional improvements to the original L-17D have been made, resulting in the currently available version 3 of the L-17D. Version 3 is offered in two different pin-outs designated pinout A or pinout B. Because of the current interest in hybrid circuit configurations, the new circuit it available in die form as well, which is designated: L-2010.
Supplier Directory Categories
Technical Articles


A Discourse on Intermodulation Noise.
(Amplifier and Linear Devices)
This paper is concerned with a specific type of intermodulation noise where the noise around an RF carrier frequency is brought down into the video band when a square law detector is used. (
View Full Article
)