About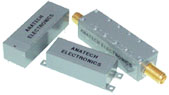 Anatech Electronics, Inc., is a privately-held, ISO 9000:2000-certified company founded in 1990 that specializes in the design and manufacturing of RF and microwave filters and related products. Its broad product line serves commercial, aerospace and defense, and industrial applications throughout the world. They specialize in rapidly responding to customer needs and creating cost-effective solutions to meet them. In addition to its custom products, Anatech also sells standard semi-custom products directly through its Web store, AMCrf.com.
Product focus
Anatech's products include bandpass, lowpass, highpass, and bandstop filters, duplexers, diplexers, and triplexers, in lumped element (LC), ceramic, cavity, crystal, SAW, and helical configurations. Response types include Chebyshev, Butterworth, elliptic, Gaussian, flat group delay, and proprietary designs that combine classic topologies to produce an optimized solution. AEI also offers power dividers, directional couplers, circulators, terminations, EMI filters, and lightning protectors.
Applications
Anatech specializes is the design and manufacture of that are used in a broad array of applications, such as:
Wireless communication systems
Defense electronic systems (electronic warfare, electronic countermeasures, radar, and communications)
Industrial systems
Medical systems
Scientific instruments and other systems
GPS navigation systems
Satellite communications terminals
IEEE 802.11a/b/g/n WiFi systems
Point-to-point microwave links
Products for defense applications
The aerospace and defense industry is one of Anatech's primary markets, and it has developed the capabilities, facilities, and quality control procedures required by defense customers. Anatech follows MIL-STD-45208A and MIL-F-18327, and is an approved GSA vendor. Anatech is a registered supplier with Aerospace Corp., L-3 Communications, BAE Systems, Boeing, General Dynamics, Harris Corp., Lockheed Martin, NAVSUP, Northrop Grumman, Peterson Air Force Base, Raytheon, Rockwell Collins, SPAWAR, and other defense contractors.
Capabilities and facilities
Anatech's capabilities include a technical staff with many decades of experience in RF and microwave design. The company maintains a full manufacturing floor, including soldering stations, manufacturing tools, painting chamber, computer-controlled PC board router, ultrasonic cleaners, metal shop, and tape and reel assembly.
Supplier Directory Categories
Anatech Electronics, Inc. is listed in these categories:
Technical Articles

Ceramic Design Guide
(RF, Microwave, and Wireless Components)
Like all types of RF and microwave filters, ceramic filters have unique characteristics that differentiate them from their counterparts and make them useful for specific applications. (
View Full Article
)