About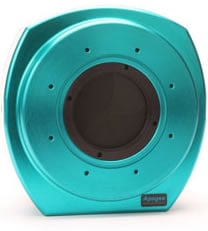 Our systems have contributed to discoveries in many different fields, from astronomy to life science. They are operated in a variety of extreme conditions, from the Arctic to orbiting around the Earth. Because you need reliable imaging systems to make your science happen, we have strived to develop the best possible quality assurance system for our products.
Apogee currently provides services and products to OEM customers who demand on-time delivery of large (1000+) orders, all to specifications.
From government and private research laboratories to large OEM's, our cameras are now used in more than 50 different countries. Apogee cameras have been used for a wide variety of applications,such as: spectroscopic analysis of water, soil and gems; detection of anthrax; analysis and detection of contaminants at nuclear reactors; imaging of fingerprints without chemicals; fluorescent imaging of cell tissues and microtitre plates; munitions testing; laser beam profiling; optics testing; and the
discovery of astronomical objects.
Chemiluminescence
Western Blot
Fluorescence
Gel Electrophoresis
Spectroscopy
Fundus/Retinal Imaging
X-rays
Mictrotre Plate Assay
Colorimetry
Machine Inspection
Microscopy
Astronomy
By expanding into broad markets with diverse demands, Apogee has had to develop a wide variety of technologies to fit our customers' wide array of needs. Be it low noise and high sensitivity coupled with high quantitative accuracy or speed and ease of use, there is one thing all our customers need: high performance at lower prices. At Apogee, we work our hardest to meet all your demands.

Compliance - All systems are FCC/CE and RoHS compliant
Quality Policy - Apogee Imaging Systems is committed to meeting customer requirements and enhancing customer satisfaction through continual improvement of its products, services and the quality management system. Each employee is accountable for ensuring customer satisfaction, and follows the procedures detailed in our quality manual.
Every customer is important and these quality systems and procedures ensure the best possible product and service every time. We focus on quality and reliability so you can focus on science and discovery.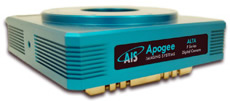 Supplier Directory Categories
Apogee Imaging Systems is also listed in these categories:
Technical Articles

Blooming vs. Anti-Blooming
(Machine Vision Equipment)
Some sensors, including the Kodak KAF series, offer an optional anti-blooming gate designed to bleed off overflow from a saturated pixel. Without this feature, a bright star which has saturated the... (
View Full Article
)

CCD Test Methods
(Video Cameras and Accessories)
The following data sheet is typical of that prepared by Apogee Imaging Systems for each of its imaging cameras. Some of the measurements here are done by design, and some are performed on each camera... (
View Full Article
)