Profile Home
About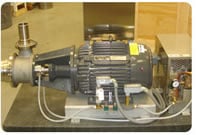 ARDE Barinco, Inc. is an American manufacturer of specialty mixing, grinding, dispersion, emulsification and size reduction equipment that is supplied to a variety of industries including specialty chemical, polymers, cosmetics, processed foods, environmental, paper, pharmaceutical, adhesives, coatings and textile industries.
ARDE Barinco is a wholly owned subsidiary of ARDE, Inc., which stands for Aerospace Research Development Engineering. ARDE, Inc. is an American manufacturer of pressure vessels and propellent management systems for the aerospace industries.
Both corporations are located in a 60,000 square foot facility in Carlstadt, NJ. ARDE Barinco also has strategic alliances with companies that manufacture high capability special mixing equipment in Germany and Mexico. ARDE Barinco, Inc. operates a fully equipped pilot testing facility in Carlstadt, NJ. Technically trained factory representatives are located throughout the United States, Canada, Europe and an increasing number of other countries where the process equipment is required.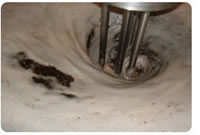 The corporate slogan of ARDE Barinco is "Finding Solutions to Mixing Problems". Their test facility and extensive pool of equipment available for loan at customer facilities are utilized to prove out applications that include the dispersion of fine solids, the emulsification of immiscible oil and water phases, the dispersion of liquids into powders for granulations and drying applications, the de-lumping of slurries in polymer manufacturing and environmental fuel areas, and the dispersion of colors for textile printing applications. ARDE Barinco process engineers are skilled in the application of their machines to provide an economically justified capital investment that will yield increased productivity, improved quality and labor savings.
ARDE Barinco, Inc.'s Products Include:

The Reversible Homogenizing mixer is the original high capability product line of ARDE Barinco. This rotor stator/high shear mixer emulsifier disperser is capable of drawing in and wetting out solid powders and also emulsifying the immiscible liquid mixtures down to the single micron area. It is extensively used in cosmetic and pharmaceutical manufacturing, dye and pigment manufacturing, and textile printing among other applications.

The ARDE Dicon In-line Dispersing Grinder is a continuous slurry grinding/ dispersing/ emulsifying machine that also pumps. The Dicon utilizes a unique 3-prong helical toothed rotor that meshes into a multi-level toothed liner to provide high shear mixing and emulsification, along with the capability to rip, shred and pulverize lumps of solid materials that are contained in liquids. Applications include polymer dissolving, resin de-lumping, and production of invert emulsions using the recirculation technique. For heavy duty industrial applications, the ARDE MEGAGRINDER utilizes the Dicon concept in an efficient hydrodynamically designed configuration that is capable of withstanding the exceedingly-heavy duty requirements of the environmental, paper and heavy chemical industries.

The ARDE Dispershear is capable of dispersing difficult to wet out powders such as Carbopol, CMC, Guar Gum, alginates, pre-gelatinized starches, polyethylene oxide, polyacrylic amides, and many other powders that form sticky lumps when inefficient dispersion techniques are utilized. Processed food and personal products applications abound with this very capable specialized dispersion device. The Dispershear is a low horsepower, low shear machine that efficiently disperses the powders without causing any damage to shear sensitive materials. Significant time savings and product raw material savings result.
The ARDE MAXIMIXER is a multi-shaft, multi-viscosity capability mixing system that combines scraped surface agitation, intermediate auxiliary blending capability, and high shear rotor stator dispersion in one sealed and controllable process vessel. ARDE Barinco has a Model MXM-100 pilot unit in Norwood, NJ, that can provide continuous and instantaneous feedback as to mixer RPM, mixer power draw, pressure, temperature and viscosity that is all measured on a computer screen and computer memory for later utilization in scale-up calculations. Difficult and critical mixing applications are the forte of the ARDE MAXIMIXER system.

The ARDE Double Helixx is an industrial double planetary helical mixer for the very highest viscosity mixing, blending and dispersion applications. For the mixing of polymer and epoxy modified cements, high viscosity sealants, dual phase epoxy systems, and many other high viscosity and high density mixtures, the Double Helixx provides positive pushing and movement of heavy products in all sections of the process vessel.

The ARDE Cavitron is an extra high shear rotor/stator that uses a unique configuration of chambers and pumping blades to pressurize small portions of the process stream and then provide cavitational pressure release as high as 500 million times per second. Fine grain emulsions, fine dispersion and high energy input dissolving and de-fibering applications are the main justifications for Cavitron technology.

ARDE Barinco is proud to announce the formation of a partnership with the manufacturer of Ram Mixers, the Sivalco Company of Mexico. This completely integrated line of portable propeller mixers and axial and radial flow turbines includes the hydrodynamically designed Hyperfoil impeller design. ARDE Barinco will be offering guaranteed process engineering along with technical service and their well-known attention to application detail. Ram Mixers are a solidly designed and applied line of mixers with competitive pricing.
Technical Articles