About
HyperCyl® drive units are a low cost solution to your high force needs.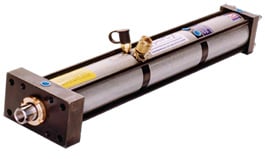 HyperCyl® is a pneumatically powered hydraulic cylinder. HyperCyl provides an array of 'hydra-pneumatic' cylinders and presses designed for use in a wide range of assembly and forming applications. HyperCyl has a place in virtually every segment of industrial production. From clean room, medical and electronic component manufacturing to heavy industrial piercing and forming.
Proprietary seal technology and unique patented design enables HyperCyl® cylinders to equal and exceed conventional hydraulic system performance and reliability without the heat, noise, maintenance and floor space associated with conventional hydraulic power units.
Options and accessories are available to assist you in building machines quickly and cost-effectively. Available in 11 standard sizes from 1 to 200 tons and in 4 design configurations, HyperCyl® provides the reliable, high speed, high force power source for your assembly and forming applications.
Special cylinders and turn key packages designed to your specifications are also available. Call your local AEC Representative or contact their technical support for application assistance.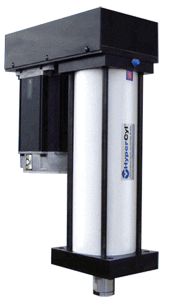 Introducing the HyperCyl-EMA Robust Servo Driven Actuator
HyperCyl-EMA (electro-mechanical actuator) is a robust, servo driven actuator designed for precision assembly applications or applications not suited for standard HyperCyl or IntelliCyl products.
Available on both roller screw and ball screw configurations in load ratings from 5kN to 230 kN (1 - 25 tons), HyperCyl-ema provides a new level of price/performance in the automotive, aerospace, DOD, appliance, medical, electronics and transportation industries in a wide range of applications.
Capable of .0025mm (.0001") repeatability and up to 500mm/sec ram speeds, HyperView-ema provides the performance and flexibility required in both current and future manufacturing environments and, it's built in the USA.
HyperCyl-ema is available as an actuator/only and drive/actuator which includes drive and HyperView-Press package. Complete turnkey press stations are also available.
Supplier Directory Categories
Aries Engineering Co., Inc. is also listed in these categories: