About






Precision Turnkey Manufacturing Services, Spin Rolls, & Industrial Filtration
Ascension Industries owns DURCO Filtration and is
the only authorized supplier of Durco OEM Filter Parts.
Ascension Industries offers you 150,000 sq.ft of manufacturing space with compatible overhead traveling cranes (up to 30 ton capacity) that make no production job too big, or too small.
Ascension's satisfied clients include many Fortune 500 companies in the metal-working, aerospace, automotive, defense, turbo compressor, process equipment, and automation industries, as well as many smaller firms.
Ascension aims to be your optimum source for high quality cost-effective precision "Turnkey Manufacturing" services. Working from "idea to installation" by providing up front complementary technical assistance, supply of all materials, tooling, fabrication, machining, assembly, inspection, and testing to your specifications.
Building on their strong reputation for excellence and innovation, and proven design and engineering experience since 1956, Ascension understands your engineering needs, and can provide a long-term mutually profitable relationship to underpin your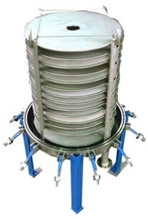 growth.

A vision of expert design & engineering for durable and ultra-reliable service drives each of Ascension's divisions:
Durco Industrial Filtration (a wide range of industrial and municipal filtration systems, as well as filter parts and service)
Custom Fabrication
Large Machining
Pressure Vessels
Electrical & Instrumentation
St Mary Spin Rolls (precision grinding fixtures)
Supplier Directory Categories
Ascension Industries, Inc. is also listed in these categories: