About

Associated Power Technologies, Inc. (APT) provides AC power sources for a variety of test & measurement, avionics, manufacturing, and military applications. All of our instruments utilize the latest technology and come standard with direct-coupled output, making them light weight and rugged. Our feature-rich user interfaces are designed with the operator in mind and include built-in safety features to protect the instrument, operator, and DUT.
The benefits of choosing APT only start when you purchase an instrument. We pride ourselves on providing you with the best service in the industry. When you choose APT, you're choosing a partner that will continue to help you for the life of your product, no matter what the application. No competitor can match our dedication to service and support. With 24-hour shipment on our standard models and 48-hour turnaround on all repairs, AAT keeps your business up and running with minimal down-time.
While our competitors focus solely on performance/price ratios, we believe value doesn't stop at the point of purchase. Our products come standard with a 2-year warranty. Should you ever experience a problem with your instrument, rest assured that we back your purchase with the best service and the fastest turnaround in the industry.
Learn more about our distinct product lines:
400XAC Series of 3 Phase AC Power Sources
300XAC Series Modular AC Power Sources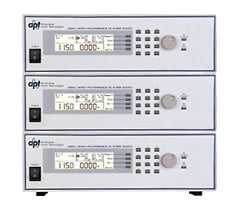 7000 Series Automated AC Power Sources
6000 Series Automated AC Power Sources
5000 Series Manual AC Power Sources
LS Series Linear AC Power Sources
Associated Power Technologies, Inc is changing the way the AC power source industry does business! Now that's the Power of Value!
Supplier Directory Categories
Technical Articles


Power Factor Correction
(Power Supply and Conditioning)
This whitepaper discusses power factor correction (PFC), which is a commonly employed method to reduce harmonic distortion and increase efficiency in an AC power source. (
View Full Article
)