About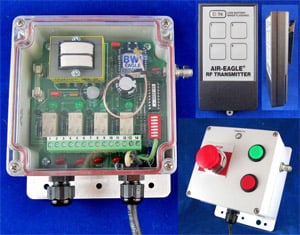 For over 20 years BWI Eagle has been a leading manufacturer of electronic specialty controls that improve safety and productivity in aggregate, mining and other industrial operations. Our product are proudly designed and built in our 10,000 square foot facility in Butler PA.
Our product line includes:
Wireless Industrial-Duty Remote Controls
Wireless receivers are equipped with independent SPDT 5amp relays for controlling industrial equipment and electronic devices at distances of 300 feet, 1200 feet, 2500 feet and up to 10 miles by handheld or dry-contact input transmitters.
Conveyor Belt Digital Speed Switches & Sensors
Digital speed switches use DP/DT relay contacts to detect zero speed, under speed or overspeed conditions. Plate or DIN rail mountable single channel units or NEMA clad single, dual and triple channel systems provide belt slip/sequence monitoring. Non-contacting proximity sensors can be located up to 2 miles away.
Dust Suppression Systems
Dust suppression systems control airborne dust along conveyor belts and transfer points.
All of our products are designed to meet the tough demands of industry, yet be easy to install, maintain and operate. By combining state-of the-art technology and precision engineering we create products that set unsurpassed standards of quality and performance.
At BWI Eagle, we believe in working closely with our customers and in many cases we'll develop a custom-made solution to meet each application's specific requirements. We provide unlimited application assistance; technical support and engineering services. We are committed to our customers' satisfaction, and stand behind everything we make with a money-back guarantee! All BWI products include a 30-day evaluation period. If they don't perform to your highest expectations, return them for a full refund - no questions asked!
Let BWI Eagle become your partner to success, whether that means revving up your own production or providing the best in products and services to your customers.
Supplier Directory Categories
BWI Eagle, Inc. is listed in these categories: