About

The principle underlying evaporative cooling is the fact that water must have heat applied to it to change from a liquid to a vapor. When evaporation occurs, this heat is taken from the water that remains in the liquid state, resulting in a cooler liquid.
Evaporative cooling systems use the same principle as perspiration to provide cooling for machinery and buildings. A cooling tower is a heat-rejection device, which discharges warm air from the cooling tower to the atmosphere through the cooling of water. In the HVAC industry, the term "cooling tower" is used to describe both open- and closed-circuit heat-rejection equipment.
From employees to partners, every action at Baltimore Aircoil Company centers on you, the customer. From application to installation to aftermarket needs, whether you are working with BAC Representatives, product literature, or accessing their website, BAC stands ready to meet your needs.
For over seven decades Baltimore Aircoil Company has been dedicated to the development of innovative, cost effective heat transfer solutions for its customers. This has established BAC as the global leader of factory assembled evaporative heat rejection and thermal storage equipment.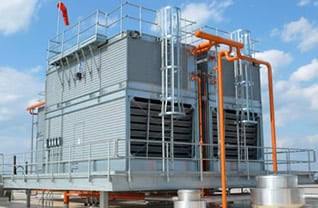 Design
Ongoing investment in research, combined with an advanced R&D laboratory facility enables BAC to consistently offer technology and products to meet developing industry demands.
Selection
BAC offers the widest array of evaporative heat rejection and thermal storage equipment in the industry. Breadth of product enables BAC to provide its customers with optimized solutions to meet their specific needs. Whether an application calls for open or closed circuit, axial or centrifugal fan, special materials of construction or unique layout considerations, BAC has the right solution.
Performance
All BAC products are engineered to minimize lifecycle costs through a combination of low energy consumption and low maintenance. An extensive array of product and options address such issues as sound, energy and reduced water consumption requirements.
Certification
All standard BAC cooling towers, both open and closed circuit, are independently certified by the Cooling Technology Institute (CTI). This ensures published thermal capacities for BAC cooling towers accurately reflect actual thermal performance, eliminating the need for customers to conduct costly individual cooling tower testing.
Baltimore Aircoil Company is recognized as the world's largest manufacturer of evaporative heat rejection and thermal storage equipment. BAC products are supplied to the commercial, industrial, refrigeration, process and power markets to meet a variety of heat transfer applications.
Supplier Directory Categories
Technical Articles


What is Evaporative Cooling?
(HVAC - Cooling)
Cooling through evaporation is a natural occurrence. The most common example we all experience is perspiration, or sweat. As perspiration evaporates it absorbs heat to cool your body. (
View Full Article
)