Profile Home
About
Welcome to Bayou City Bolt and Supply. Since 1962 we've carried an extensive stock of hard to find items. From the smallest machine screws to the largest hex nut, Bayou City Bolt can fulfill your fastener needs. We also offer the lowest minimums in the industry, and sell by the piece or in bulk - you buy only the fasteners you need! In addition to the standard fasteners, we stock the fasteners other bolt companies are unwilling to carry.
Founded in 1962 ago by Louis Palombi, Bayou City Bolt has grown from a 2,000 sq ft office/warehouse to 9 warehouses covering 40,000 sq ft of inventory.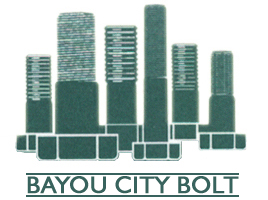 Bayou City Bolt carries all of the standard fasteners such as Hex Head Bolts, Square Head Machine Bolts, Carriage Bolts, Socket Cap Screws (Allen Head), Studs, All Thread Rod, Washers and Nuts, and Machine and Sheet Metal Screws. However they also carry such speciality items such as Turnbuckles, Pins (Cotter, Dowel, & Hitch), Concrete & Wall Anchors, Wire Rope Fittings, U-Bolts, and Eye Bolts. Most items in stock in both US standard and metric sizes. Materials include steel, alloy steel, stainless steel, and brass. Please visit our Products Page for a more detailed list of the items they carry.
Bayou City Bolt and Supply Co., Inc. is the place for your fastener needs.
To Spec - On Time - In Budget
Technical Articles

Bolt Threads
(Fastening and Joining)
It might be unusual to think of bolts and nuts as cutting-edge technology, but for at least 1,800 years these fasteners were nothing less. Until the Industrial Revolution, the six classical machines... (
View Full Article
)

CORRECT TORQUE TO BOLT CALCULATIONS
(Industrial Hardware)
Bolts and screws are so ubiquitous that it's impossible to fully articulate their importance or applications. These fasteners literally hold the world around us together. From the rigors of the... (
View Full Article
)